Having a bar at home is a dream of many. After all, it is a minimal investment and super easy to install at home. Well, a basic home bar gets boring. With the modernization of people and culture, you can upgrade your home bar with minimal efforts.
In the following article, we will introduce the top 7 best home bar upgrades ideas so you can continue to have get-togethers with your parents, family and friends.
A Movie Bar
A weekend with a movie and bar are the perfect plans. So, create a themed environment with a big media device in a room. Playing with neon lights can always bring a style to a bar. You can add any colour lights, but put in bright and vibrant colour. You can complete the comfort of a home bar feel with sitting chairs or a comfy bed. Spend a night with your friend and close friends.
A Bar In The Wall
Trying a bar on the wall is comfortable and accessible but also modern and original. You can use a complete wall or some part of the wall to transfer your beverages on it. In addition, add some unique hanger or floating cabinet to store your small bottles, glass from frankly james or utensils. You can also keep your wine cooler aside to complete the look. A wall that has style and that saves on furniture and extra decorations.
Bar In The Garden
If there is a garden, terrace, or balcony in your house, use this space to turn it into a bar. Although, it is very refreshing to have a chilled drink in the garden. You can decorate it with tables, chairs and a barbecue. How you decorate it is entirely up to you and as per your preference. Adding a neon light is also a good idea to have a better aura in the nighttime. A bar like this can make everyone feel relaxed and excited at the exact moment and can make your companions feel better.
Wooden Corner Bar
Having a wooden corner bar is the perfect design to create a stylish storage solution for small spaces. Thus, order fancy furniture that will fit your corner and align your drink with a good display. In addition, incorporate a wooden table in front to have a drink with your friends and family. Corner bars get along quickly while improving the look and feel of the house.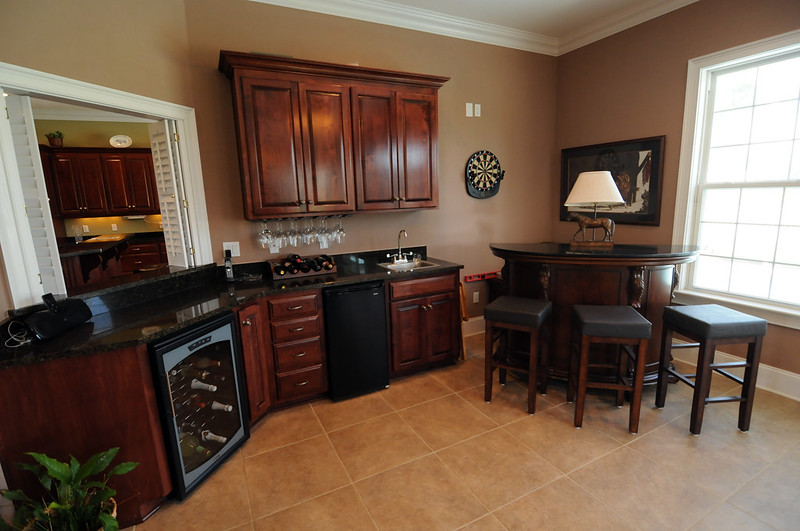 Butler's Pantry into A Bar
What are you waiting for; turn your butler's pantry into a home bar?
To begin with, the butler's pantry served as a way for servants to gain access to food preparation areas. The best thing you can do with these types of pantries is to spice them up with some fancy or white wallpaper on the walls and bottles or whiskey glasses in the translucent pantries. Moreover, you can display your brand bottles on the table and make them look even more dashing.
Home Bar With Glass Doors
Give a modern look to your bar. This home bar with a glass door is stylish and makes good use of the available space. It's attractive to look at, and the transparency of its doors helps you to keep an eye on the drinks you have on hand. Moreover, you can adore your exclusive collection of whisky or wine with the help of glass doors. This is formal and perfect for a small apartment.
Wheel Bar Cabinet
Wheel Bar cabinets are trendy and can be easily moved from one place to another while still enjoying the space in your apartment or house. The best part is you can buy trendy and stylish cabinets to make them look more attractive.

I hope you like the bar upgrade ideas shared above, and I am sure you will go for some upgradation soon. Do share how you upgrade your bar with us as well, would love to see you the same.
advertisements