You have probably heard of the Mediterranean diet, and maybe you would like to experiment with cooking Mediterranean recipes. However, you are not sure what "Mediterranean cooking" is exactly, or how to do it. If that sounds like you, then you have come to the right place! In this guide, we have rounded up seven essential tips to help beginners get started with Mediterranean cooking at home. Read this guide to learn the basics and then grab a bottle of flavored olive oil and get cooking!
Know what a Mediterranean diet entails.
The Mediterranean diet gets a lot of buzz, but do you actually know what it means? Thankfully, a Mediterranean diet does not mean restricting your calories or cutting out all the tastiest food groups. Instead, the term "Mediterranean diet" refers to foods traditionally eaten in areas bordering the Mediterranean Sea, including Greece, Italy, France and Spain. This diet is associated with a variety of health benefits, and people in these regions are historically at low risk of many common conditions such as type 2 diabetes and cancer. The Mediterranean diet focuses on fresh vegetables, fruits, lean proteins and whole grains, while reducing or eliminating refined sugar and carbohydrates as well as processed food. Not only is the Mediterranean diet good for you, it is also delicious, which is why its popularity has spread around the world.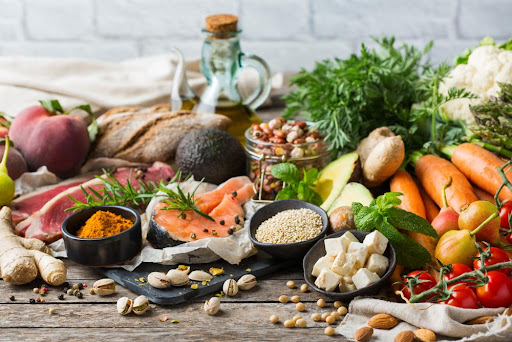 Keep the right ingredients on hand.
If you are committed to a Mediterranean diet, then you will want to keep certain staples on hand. Fresh vegetables and fruits as well as lean proteins are a must. Try to get produce that is known for being grown in the Mediterranean region. Some other items to keep on hand include Greek yogurt, regional cheeses, tahini sauce (ground sesame seeds), jarred olives, canned tomatoes, nuts and seeds, canned and/or dried beans, spices and herbs, flavored vinegars and, of course, fresh onions and garlic. You should also get pasta, crackers, breads and other items that are made from whole grains. And do not forget olive oil, which is a fixture of Mediterranean cooking and comes in multiple varieties as well as infused ones that feature flavors such as chili and garlic. With these food staples, you will be ready to pull together a Mediterranean-inspired meal whenever you get hungry.
Choose your proteins wisely.
Red meat may be popular in the U.S., but you will rarely find it in the Mediterranean diet. Instead, Mediterranean cooking focuses on lean, low-fat proteins such as chicken, various types of fish and even eggs. It also makes good use of non-meat protein options such as beans, legumes, lentils, nuts and seeds, making many Mediterranean recipes suitable for vegan or vegetarian diets as well. Eating less red meat is associated with lower risk of heart disease and death, so consider swapping out some of those steaks and burgers for a delicious Mediterranean option such as chicken shawarma or a falafel pita sandwich.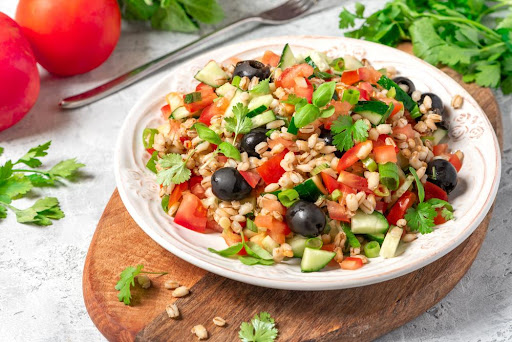 Explore different types of salads.
If the word "salad" makes you think of a bed of raw, chopped lettuce topped with other ingredients, the Mediterranean diet does have plenty of those. But it also includes many other different kinds of salads, including grain salads, roasted vegetables salads, fruit salad and more — with nary a lettuce leaf in sight. Even if you are picky about what vegetables you eat or what form they come in, you are sure to find something you enjoy given the sheer amount of produce options offered by the Mediterranean diet. You might be surprised to learn just how many different ways there are to prepare and cook a vegetable!
Center dips and sauces.
Dips and sauces are the real stars of the Mediterranean diet and a huge source of flavor in most dishes. Classics include hummus, labneh, tzatziki sauce, tahini dip, eggplant dip and more. While you can certainly buy store-bought versions, or get them from a local restaurant, if you make your own version at home from scratch with fresh ingredients, they will be much more flavorful. Just make sure to eat them in a timely manner, as certain ingredients — such as the shredded cucumber in tzatziki sauce — can go off or affect the consistency if left too long due to the lack of preservatives.
Do not forget about breakfast.
When it comes to Mediterranean cooking, lunch and dinner are the meals that get the most attention. That is because unlike sugary, sweet North American breakfasts, Mediterranean breakfasts tend to be savory and packed with protein, much like lunch and dinner. In fact, many of the same ingredients show up in Mediterranean breakfasts as well as lunch and dinner. For instance, you can try toasted whole grain bread with fresh fruit or soft cheese, or a boiled egg with leftover tomato and cucumber salad. If you must have a little sweetness with your breakfast, then try topping some plain Greek yogurt with some nuts and a little bit of honey. Various egg-based recipes such as frittatas, omelets and scrambles are another great option if you are not quite ready to have falafel for breakfast yet.
Make desserts with fruit and/or olive oil.
If you are used to desserts that focus on sugar and/or chocolate, then Mediterranean desserts might not seem familiar at first glance. Like the rest of the Mediterranean diet, desserts tend to center on fresh ingredients — in particular, fruit and nuts. They also incorporate olive oil and other ingredients that are usually relegated to savory dinner recipes. Baklava is probably the most recognizable Mediterranean dessert, but there are many other options, including olive oil cake and roasted fruit topped with yogurt and honey. Once you taste fresh, homemade Mediterranean desserts, you might never go back to prepackaged, sugar-added treats again.
advertisements

If you follow these tips, you will be whipping up delicious Mediterranean recipes at home in no time. Just remember to keep your pantry stocked so you can always make a delicious Mediterranean meal any time you feel like it.