Sometimes I put myself in the others shoes. I think about their problems and imagine what could I do if I was those people? So I never judge people. They may do bad things but they have to. For example there are some old people in retirement home.
My Memories of Belyashi
They have family and children but their family may couldn't care of them. Maybe these old people have physical or mental problems like Alzheimer and must be in the special care. Or maybe their family can't afford the financial problems.
So it's not easy to judge people and say they are heartless. My mom is really kind and loves to help people. Sometimes she takes food or clothes for orphanages. I suggested her to cook for retirement home.
She said I love to but it's a little harder. Cause they are old and they must have healthy foods. I don't know which food is good for them and what is harmful for them. I said we can ask their nurse or the manager of that place.
She accepted and I called retirement home. I talked to a doctor who was adjusting their diet. He said you can give some of them everything but a few of them have strict diet because of their diseases. It is better if the food you cook is healthy. You can give food to our employees as a meal to share. I got my answer.
We consulted and decided to cook tow different kinds of food and make lemonade too. My mom choose a vegetable piroshki which was really healthy without any meat or oil. She decided to bake it at oven.
Meat Piroshki Called Belyashi
I decided to cook a meat piroshki called Belyashi and to be more healthier I decided to bake it in the oven as mom wanted to do. For Belyashi I needed ground meat and piroshki dough. For vegetable piroshki mom needed carrots, potatoes, corn and mushrooms and also piroshki dough.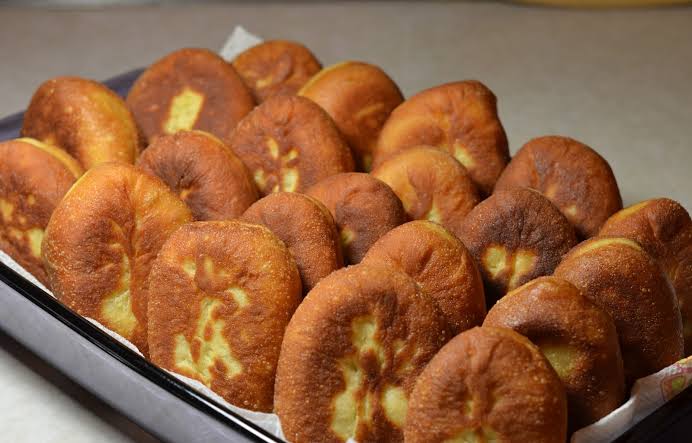 We decided to prepare the dough ourselves. Mom said it's easy to do. So we started working. We were going to prepare some leaved dough. Mom mixed some dry yeast with warm water and added some spoons of sugar then cover the yeast bowl and let it for 20 minutes.
When the yeast operation was done, mom added olive oil and a little salt and blended them. Then she added the flour gradually. She added flour and knead until the dough didn't stick her hands any more. Then put the dough in a big bowl and covered it with a paper towel and let it rest for an hour.
We prepared the filling during the dough was rising. Mom chopped all the vegetables. I chopped onions to mix with meat. She steamed vegetables with a little salt and let the vegetable mixture to cool.
I mixed ground meat with onions and salt throughly. Based on the recipe I must fried them with pepper and oil but I omitted these ingredients and this way to be more healthier. Then I rounded meat mixture to little meat balls. After an hour we kneaded the dough again and divided into small round pieces.
Mom sprinkled some flour on the counter and spread the small chunks like flat small breads. Mom put a small of vegetable mixture into each flat bread and I put a meat ball into each one to make Belyashi. In the original recipe they should be fried in oil but I prefer to bake them without any oil to be more healthy to eat. We gathered the sides of dough into the middle and pushed with our fingers. Our job was almost done. It was the time to bake them in the oven.
We went to the retirement home on Saturday morning before noon. We brought some lemonade with us too. We gave the lunch to the employees. They knew how to share them. Vegetable piroshki for special diets and Belyashi for the others. And if you are worry for ones who had dentures, I should say they were very soft and juicy and easy to eat.
And when they served with a drink it's more easier to eat. I tasted both of them at home and really enjoyed them. We were there and talked to them.
They didn't complaint of their family and children but they were very sad and really homesick. They felt lonely. When we were talking to them, they were happier. I don't want to judge their family but I was so sorry to saw them. I made a good decision. I decided to see them again. Maybe once a month. Belyashi was a start but it's not the end.
Source: https://www.epersianfood.com/belyashi/
advertisements

Related Post: kitfo epersianfood.com