After you've enjoyed the Slow-Cooked Chinese Five Spice Chicken with Cashews & Shiitake Mushrooms, you're all set to make chicken stock, as well as Chinese Chicken Noodle Soup for dinner the next day.
After dinner, transfer all the leftover veggies, cashews, mushrooms, and sauce into one container, and all the meat you can remove from the chicken into another container. Place the chicken bones back into the slow cooker, and toss in onion, carrot, celery, coriander seeds, and a bay leaf. Fill it up with water (about 3/4 full). Cook on low overnight to create a flavorful stock by morning.
You'll have enough homemade chicken stock for a few meals, so just keep a portion out for dinner to use in the Chinese Chicken Noodle Soup. With your leftovers from the slow-cooked chicken the night before, along with your homemade chicken broth, you're just a few ingredients shy of whipping up a bowl of Chinese Chicken Noodle Soup.
In addition to a packet of noodles, all you will need is a splash of Chinese black vinegar, a dash more of our Sichuan Chinese Five Spice, and some healthy greens – I recommend bok choy, baby kale, spinach, broccoli, or shredded napa cabbage. And for a garnish, some chopped scallions.
Use this recipe only as a guide, and engage with the cooking process – tasting and adjusting the seasonings to achieve your desired flavor. You can't go wrong. Have fun!
Print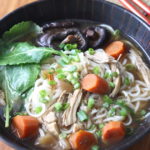 Chinese Chicken Noodle Soup
---
Scale
Ingredients
2

servings of Asian-style noodles (see Notes for recommendation)
Leftover veggies, cashews, mushrooms, and sauce from the Slow-Cooked Chinese Five Spice Chicken dish

2

to

2.5

cups of chicken stock (recipe below), or store-bought chicken broth
Leftover chicken (about 1 cup, shredded), from the Slow-Cooked Chinese Five Spice Chicken dish
Leafy greens such as bok choy, baby kale, or spinach, as well as broccoli or shredded napa cabbage.

1

–

2

scallions – chopped
Chili oil (optional, for a spicy version)
Seasonings:
1 tsp

Chinkiang black vinegar 镇江香醋 (also known as Chinese black vinegar)

1/2 tsp

or more of Season with Spice's Sichuan-style Chinese Five Spice, to tasteSalt, to taste
---
Instructions
Cook noodles according to the package instructions. Drain well and divide into serving bowls.
Place the leftovers (except chicken) from the slow-cooked five spice chicken into a large soup pot and heat on medium. When heated through, pour in the homemade stock, and bring to a slow boil.
Add in the shredded chicken and bring the soup to a boil. Add in the seasonings. Taste and adjust as needed. Add in the greens. Turn heat to low and let simmer as you ladle the soup over the noodles. Turn heat off. Top the soup with chopped scallions. Swirl in some chili oil if you want it spicy
Notes
I used fresh Korean noodles (sutamyeon) for this recipe, but any dried or fresh Chinese egg noodles, ramen noodles, or flat-style udon noodles will work.
Chinkiang black vinegar is one of the key ingredients in Chinese cooking. It lends a mildly sweet, smoky taste to dishes. If you can't find it, you can use soy sauce as an alternative for the recipe (just leave out the extra salt if using soy sauce).
For vegetables with a higher density (e.g. broccoli), you want to add it into the soup earlier as it requires a longer cooking time. Leafy greens take only seconds to cook in boiling water, so you want to add them in last.
Homemade Chicken Stock using a Slow-Cooker
Ingredients:
One whole chicken carcass
1 onion – peeled and quartered
1 carrot – chopped into big chunks
1 stalk of celery – roughly chopped
1 bay leaf
Leftover ginger pieces and garlic cloves from the Slow-Cooked Five Spice Chicken recipe
1 tsp of coriander seeds
Water until the slow-cooker is about 3/4 full
Salt, to taste (optional)
Method:
1. After you remove the meat from the chicken, place the carcass or leftover bones back into the slow-cooker.
2. Add in the onion, carrot, celery, and spices. Then fill the crock pot with water until it's about 3/4 full.
3. Set on low for 10 hours, or high for 5 hours. Once the stock is done, you can season it with salt if you wish. Let the stock cool for about 20-30 minutes. Then strain, and discard the vegetables, spices and bones. Refrigerate or freeze the stock in portions of 1 or 2 cups.