Sink replacement tends to be an integral part of the majority of kitchen remodeling projects , matter of fact, it an A+ Construction & Remodeling Activity. When you upgrade this side of your house, you will also probably want to change it.  Earlier, options were limited with stainless steel and cast iron being the staples. In current times, the situation is starkly different. There are different types of materials on the market, and of them, granite or granite composite sinks are gaining tremendous favor. These are trending today because of their durability, modern appearance, and vibrant appeal, you may want to check out this Granite Liquidators mountain mist granite here for more info. Once installed, these sinks can add value to any kitchen regardless of its theme and design.
There are other reasons also contributing to the popularity of this latest choice. For instance, stainless steel is usually affordable. But it demands thorough cleaning and maintenance to stay shiny. Plus, you cannot expect much from its look as it has got the typical vibe. The problem with cast iron sink, particularly in white color, is that it is prone to chipping and scratches. Hence, those who want to deviate from these standard features naturally lean towards granite for a refreshing change.
A modern granite sink can cost a one-time premium price, but its ability to resist scratches and chemical exposures return all the value in the long run. The dense rock particles on the surface lend these sinks durability. And, what is interesting is that it offers you amazing colors to pick from, such as black, beige, white, and gray. These sinks boast of a matte finish, though. So, it can be a bit of a challenge for someone who wanted a glazy appearance.
If you are giving this choice a serious consideration, then let's explore it in more detail.
Dissecting granite sinks
Getting pure granite sinks in the market is a little tricky because natural granite is expensive, and hence, only a handful of companies produce them. What you mainly come across as a choice is granite composite or quartz composite. It is almost the same thing as the natural one. That's why most companies market them as granite sinks. Granite composite sinks make a superior option as they contain beauty, long-lastingness, and reasonable pricing. They can be an ideal fit for a large variety of materials used in countertops.
Most of the granite composite materials feature about 80% of granite and 20% of acrylic resin in their construction. Therefore, you can expect them to resemble natural stone texture-wise. However, they differ from natural granite only in terms of a uniform look. From retailers, you can get granite sinks in multiple shapes, sizes, colors, matte finish, and configurations. These vast possibilities allow them to complement almost every kitchen interior.
Natural granite VS granite composite sinks
Both these varieties have specific pros and cons. For instance, natural granite is durable and hardwearing. You will not get two same sinks in this material as every piece tends to be distinct. Proper sealing provides them with stain, heat, and scratch resistance. However, you can face a real problem with its buying and maintenance costs. A high-end natural granite sink will be significantly expensive. Due to its weight, it can incur higher installation expenses. The other downsides of this material include the risk of chipping and annual sealing requirement.
When you reckon granite composite sink as an option, you will realize that this too has some good and some bad things about it. For instance, if you count its benefits, you can say:
High heat resistance bestows it a quality to fight discoloration and fading
Risks of chipping, cracking, water staining and spotting, and chemical reaction are very less
Choices in the matte finish are fantastic, particularly if you look at the availability of brown color, which is so uncommon to other materials
Having the traits of endurance, long life, and look of a natural stone for an affordable price is another merit
The main challenges with this option can occur in the areas of installation, maintenance, and staining. To be precise, the sink may need additional support to carry its weight. Maintenance is also not a headache as you have to clean it regularly, like other sink materials, to keep it in good health. However, talking about the issue of staining, you have to make sure that you clean its surface regularly to prevent water stains from affecting the lighter colors and finish.
Stainless steel sink VS granite sink
These two options are like chalk and cheese, and therefore, you can expect them to offer unique advantages and disadvantages. When you compare these two, you will first of all, realize that granite is acoustic while steel noisy. The chances of damage to granite are also the least. But stainless-steel sinks are incredibly affordable and easy to maintain. Nevertheless, you cannot expect them to be available in multiple colors and have the strength of natural stone.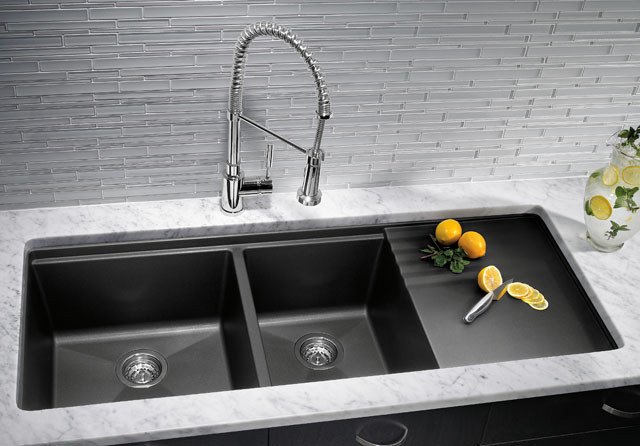 Popularshape and installation choices
From being slightly curvy to square to round to rectangular, granite kitchen sinks can adopt any standard configuration. If you wish for a cleaner and seamless design, then opt for undermount installation. Some homeowners choose farmhouse and drop-in options also because these give more exposure or visibility to the material. Here are the most useful tips for the best finish to silicone sealant your kitchen sink. You can pick apron front or farmhouse sink to create your signature and to enjoy higher comfort when doing the dishes.
Besides, the current range includes single and double bowl systems. Single basin designs are a hugely preferred feature in large family kitchens where bulky pots and pans form a common sight. Double bowls are usually for those who want to have separate sections for food preparation and dishwashing. In some designs, you get low dividers that give you a taste of both single and double bowl usage.
advertisements

A granite kitchen sink can be a precious addition to any kitchen that deserves to look updated, stylish, and mess-free. In truth, this choice is about different colors, appealing configurations, attractive installation options, and much more for a fraction of price. So, whether you upgrade the entire kitchen or just a small part of it or move to a new kitchen, you can go with granite sinks without any hesitation.