Hooters is a sports bar and grill that prides itself on good food and the globally recognized "Hooters Girls". They provide the American way of eating and are open for lunch and dinner. With their friendly atmosphere, sex appeal, and American made menu, Hooters is sure to have something for everyone.
The atmosphere is what they pride themselves in. The restaurant was started in Florida with a casual, beach theme. They have kept that theme going in each restaurant with their music, wide variety of food, drinks, and sports being played on wide, flat screens available in every area of the restaurant. The atmosphere is always kept friendly with an all female serving staff who are happy to help with anything.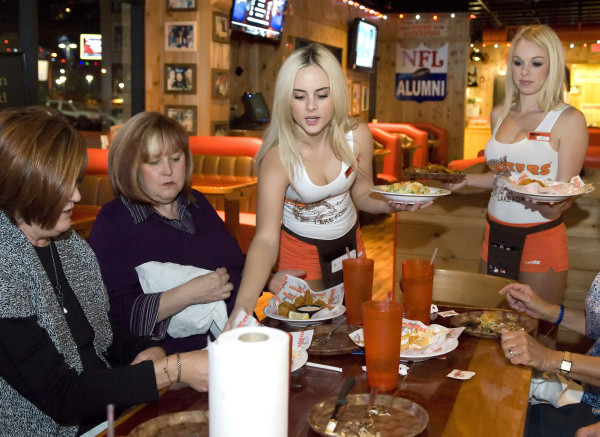 Hooters Menu Prices
Item
Size
Price
Hooterstizers
Take Out Menu
Quesadillas (Steak, Chicken or Bbq)
grilled flour tortilla filled with chicken, steak or bbq cheddar and monterey jack cheese
$8.99
Quesadilla Cheese Only
$6.99
Add Guacamole to Quesadilla
$0.50
Nacho Grande
plateful of chips, cheese, and great toppings
$7.99
Nacho Grande with Grilled Chicken or Steak
$9.99
Onion Rings
great to eat, but don't try proposing with them, lightly breaded sweet onions served with kickin' dippin' sauce
$4.99
Cheese Sticks
we seem to have a gift for the cheesy things, fried mozzarella cheese sticks with marinara sauce
$5.99
Buffalo Shrimp
start every meal with a little b.s. fried butterflied shaken in your favorite wing sauce
$6.79 – $11.99
Buffalo Chicken Strips
sliced chicken breast, breaded, fried and shaken in your favorite wing sauce, or served plain
$6.99
Sampler Platter
some steamed shrimp, some snow crab legs that won't make you fat, buffalo shrimp and our famous wings
$17.99
Buffalo Platter
order one for the table. buffalo shrimp, chicken strips, and our famous wings.
$12.99
5 Wing Flappertizer
start your meal off right with a taste of our famous wings, served unbreaded "naked style".
$3.99
Hooters Chicken Wings
Take Out Menu
Nearly World Famous
mild, medium, hot, 3 mile island, 911, cajun, samurai or spicy jack often imitated hardly ever duplicated great as a meal or a snack all drums
$6.99 – $27.99
Gourmet Chicken Wing Dinner
20 wings and a bottle of dom perignon champagne
$149.99
Bleu Cheese or Ranch Dressing & Celery or Carrots
$0.99
Extra Bleu Cheese, Ranch, or Sauce
$0.69
Seafood
Take Out Menu
Oysters
Raw on the half shell
$9.99
Oyster Roast Carolina Style-In the Shell
a taste like you've never had, you'll love em, shuck at your own risk, served with drawn butter
$18.49 – $10.99
Fish and Chips
beer battered fish, comes with cole slaw and curley fries, but no chips, go figure
$8.99
Steamed Clams Hooters Style
everybody's clam-oring fir these babies served with drawn butter or cocktail sauce made semi-famous right here at hooters
$8.99
Snow Crab Legs
$11.99
New Orleans Shrimp 1/2 Lb
peel'em & eat'em shrimp – talk about big easy, simmered in a spicy roux sauce, with toasted french bread for dipping
$9.99
Traditional Steamed Shrimp Available 1/2 Lb
actually, just a little jealous of the new orleans shrimp
$9.49
More Than a Mouthful Burger
Take Out Menu
More Than a Mouthful Burger
$6.99
Add Cheese
american cheddar, pepper jack, provolone
$0.39
Add Bacon
$0.39
Add Grilled Mushrooms
$0.39
Add Chili
$0.49
Sandwiches
All Sandwiches served with Pickle, Lettuce, and Tomato
All Sandwiches served with Pickle, Lettuce, and Tomato, and Eithe
Buffalo Chicken
a fried chicken breast sandwich, shaken in your choice of our famous wing sauce, like a wing on a bun, without the bone
$7.69
Grilled Chicken
$7.29
Smothered Chicken
a grilled chicken breast smothered in provolone cheese, onions, green peppers and mushrooms
$7.99
Ham & Cheese Sandwich
this piggy came from the market the cheese came from a cow we added some secret sauce and they're on a roll now
$6.99
Groupers Cousin Sandwich (Fried or Grilled)
we found a cousin of the grouper and decided it was better than plan old grouper because it hung out at the finest schools
$7.99
Cuban Sandwich
toasted 'stogie' roll filled with layers of pork loin, ham, cheese, pickles, and spicy mustard check with your gastroenterologist before eating
$6.99
Philly Cheese Steak (Beef or Chicken)
onions, green peppers, mushrooms, provolone cheese, we have a big steak in this one
$7.99
Texas Steak Sandwich
a tender, marinated, juicy flat iron steak topped with cheese, onions & mushrooms
$8.49
Bbq Sandwich
we do the manly bbq thing so you don't have to. A generous portion of pulled bbq pork, smothered in jackaroo sauce
$6.29
Grilled Cheese Platter
served with a side of curley fries, just like your mother used to make, only better
$4.99
Gourmet Hot Dog
served with a side of curley fries, a weiner you can relish, it's lived a dog's life
$4.99
Add Chili
$0.49
Add Cheese
$0.49
Add Bacon
$0.49
Add Grilled Mushrooms
$0.39
Add Grilled Onions
$0.39
Sides
Take Out Menu
Curley Fries
with cheese sauce french fries are fun again.peeled and curled entirely by computer & programmed by an idaho refugee.
$2.69
Sides
cole slaw, potato salad, macaroni salad, baked beans
$0.89
Soups
Take Out Menu
New England Style Clam Chowder
$3.29
Baked Potato Soup
$3.29
Vegetable Soup
$3.29
Bayou Gumbo
with andouille sausage
$3.29
Hooters Chili
$3.29
Add Cheese to Chili
$0.39
Desserts
Take Out Menu
Key Lime Pie
$3.49
Caramel Fudge Cheesecake
$3.99
Chocolate Mousse Cake
$3.99
Drinks
Take Out Menu. Hooters Has The "Coldest Beer In Town", Ask About Our Draft and Bottle Selection
Soft Drinks, Milk or Iced Tea
$2.29
Hooterade
$1.99
Coffee
$9.99
Bottled Water
$1.29
Bbq Ribs
Take Out Menu
Bbq Rib Dinner
HISTORY OF Hooters
The restaurant's company is based in Atlanta, however the first restaurant was established in Clearwater, Florida. Six investors and business men decided to open a restaurant together. They had no previous experience in the restaurant business but are now known as the "Hooters Six".
They wanted to create a restaurant that embodied their two favorite things- good food and fun music. This is exactly what they did. The food they decided to serve were always American finger foods. The music was kept upbeat to reflect a good time with friends. The entire restaurant was made out of wood not only for looks, but for cost efficiency.
The original restaurant was a completely thrown together ordeal. There was only one girl and the six men working on the restaurant. One woman inspired the Hooters Girl outfit. She was known for wearing jogging shorts and white tank tops. This became the official outfit. In order to work at the restaurant, the girls are required to have the "All American Cheerleader, Surfer, Girl Next Door" look.
Hooters REVIEW
Hooters provides well cooked, good tasting food. Their menu has a wide variety of appetizers, burgers, salad, soups, wings, seafood, sandwiches and desserts. The burgers are perhaps the most delicious item on the menu. Every burger is made with quality product, seasoned, and cooked well. Their wide variety of menu and having the knowledge that whatever food you get will be delicious makes choosing a meal hard to do.
The atmosphere of the restaurant is friendly and fun. You automatically feel welcomed when you walk in. Service is fast and reliable. The girls are always willing to talk and help you with whatever you need. You are treated well and like a valued customer. The restaurant has both indoor and outdoor seating, each with a TV playing whatever sport you want to watch.
Pricing of the items is usually very affordable. The average price is about $10 for a whole meal. Food is served from 11am-midnight on Monday through Thursday, 11am-1am on Friday and Saturday, and 11am-11pm on Sundays. The restaurant also has Happy Hour from 10pm-closing every night.
The restaurant has locations all over the United States. It's headquarters is in Atlanta but the company has spread out to have locations in every state. The wait time for this restaurant can sometimes be long if you go during dinner time, but lunch and any times in between or after dinner are usually very calm and you most likely will have a short wait time.
advertisements

TOPIC: Hooters Menu Prices