Hopdoddy Burger Bar is a reasonably new name in the burger industry; however, it's a name that's creating a lot of buzz, and for good reason. Their handcrafted gourmet burgers are out of this world and they have some utterly irresistible flavour combinations. Their beef on the Hopdoddy Burger Bar Menu Prices is hormone and antibiotic free and every location tries to source their produce as locally as possible.
The company is totally dedicated to providing the highest quality ingredients, along with products that are made fresh every day and cooked to perfection. Every location also has a fully licenced bar, providing the perfect burger and beer combination. This creative new chain is changing the way families across America view the traditional burger.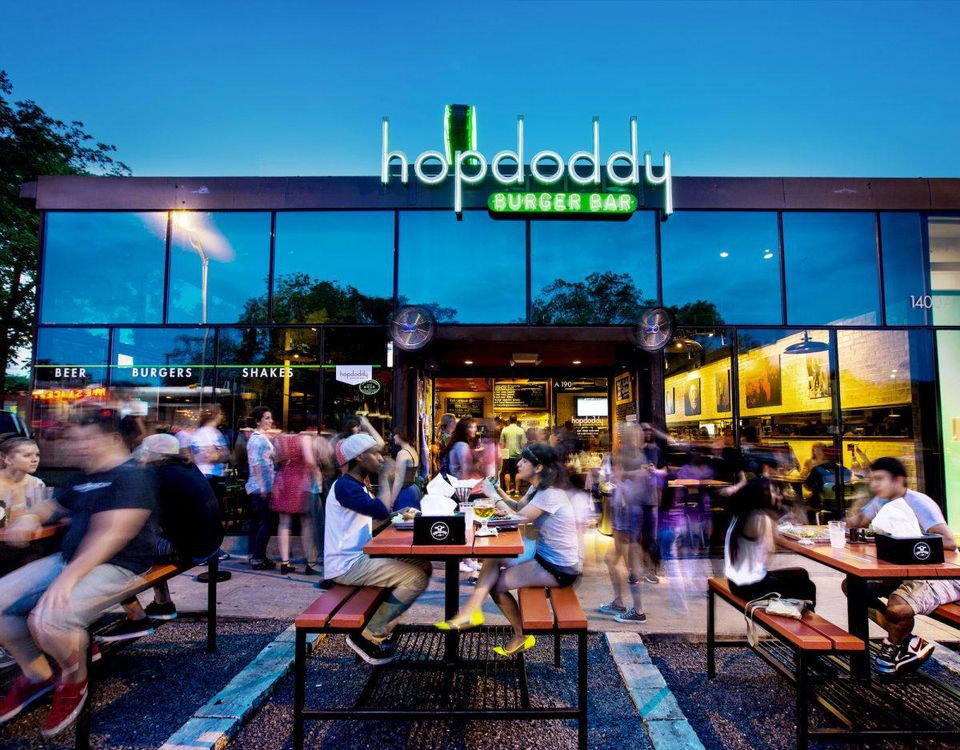 Hopdoddy Burger Bar Menu Prices
FOOD
SIZE
PRICE

Crafted Burgers

The Classic Burger
$6.25
The Classic Burger with Classic Cheese
$7.00
The Classic Burger with Bacon Cheese
$8.00
Goodnight / Good Cause
$8.25
Terlingua
$8.00
Magic Shroom
$8.75
Llano Poblano
$8.25
El Diablo
$8.25
Primetime
$12.00
Buffalo Bill
$10.00
Greek
$9.25
Thunderbird
$10.00
Continental Club
$8.00
Ahi Tuna Burger
$12.25
La Bandita
$8.00

Salads

Hail Caesar
$7.00
Spinach & Arugula
$9.25
Baby Kale
$9.25
Add Quinoa
$3.00
Add Beef
$4.25
Add Grass-Fed Beef
$5.25
Add Akaushi Beef
$5.25
Add Bison
$5.25
Add Tuna
$5.25
Add Turkey
$4.25
Add Chicken
$3.00
Add Black Bean Patty
$3.25

Sides

Kennebec Fries
Regular
$2.75
Kennebec Fries
Large
$5.25
Parmesan Truffle Fries with Truffle Aioli
$6.50
Green Chile Queso with Fries
$6.50
Chili Con Queso with Fries
$6.50
Harvest Quinoa
$4.00

Drinks

Maine Root Sodas or Iced Tea
$2.75
Fresh-Squeezed Ginger Lemonade
$3.25
Kombucha
$4.50
Bottled Sodas or Water
$3.00
Shiner, Dos XX, Original Sin Cider
$4.00
Lonestar
$3.00

Craft Beverages

Natural Vanilla Bean Milkshake
$5.00
All Other Milkshakes
$5.50

Sips for Grown Folks

Classic Frozen Margarita
$5.50
Little Larry
$3.00
Bubbly Blonde
$7.00
The Skinny Dip
$10.00
Soco Sweet Tea
$6.00
Sangrita
$7.00
Black Cherry Hard Limeade
$6.00
Doble Fina Margarita
$7.00
Lil' Prick
$8.00
Mighty Mule
$8.00
Hey, Neighbor!
$8.00

Craft Draft

(512) IPA
$6.00
(512) Pecan Porter
$6.00
St. Arnold Lawnmower
$5.00
Austin Beer Works Pearl Snap
$5.00
Real Ale Fireman's #4
$5.00
Circle Brewing Blur Texas Hefe
$6.00
Thirsty Planet Bucket Head IPA
$6.00
Thirsty Planet Thirsty Goat Amber
$6.00
Live Oak Hefeweizen
$5.00

Wine

All Wine is Served by the Glass

Parducci White Sustainable
$5.00
King Estate Pinot Gris
$7.00
Matanzas Creek Sauvignon Blanc
$7.00
Alexander Valley Chardonnay
$6.00
Parducci Red Sustainable
$5.00
Carmel Road Pinor Noir
$7.00
Rutherford Hill Merlot
$8.00
Alexander Valley Cabernet Sauvignon
$8.00
Terrazas Malbec
$7.00
History of Hopdoddy Burger Bar
The idea for Hopdoddy came from four absolutely brilliant, legendary restaurateurs: Chuck Smith and Larry Perdido who owned Moonshine Patio Bar & Grill, and Larry Foles and Guy Villavaso, the owners and creators of Eddie V's and Chez Fred. Between the four of them, the concept for Hopdoddy Burger Bar was born.
The four founders asked themselves a simple question, what do people crave? And how can we make it better? They settled on a burger bar. The first location was opened in Austin, Texas in 2010, along the infamous South Congress. In the early days, Hopdoddy was so popular that people would regularly queue for 30 to 40 minutes and they were happy to do so.
Their other food philosophy is based around the age old question: what tastes good between a bun? This is where the magic of the chain comes in; the creativity of the four founders has combined to create some awesome combinations. They also wanted to make sure this was a place where parents wanted to take their children, not the other way round, and their fantastically stocked bars are for over 21's only.
This creativity, along with their dedication to providing organic, locally sourced, sustainable ingredients has quickly solidified their reputation as a new family favourite. They have grown and now have 9 locations across Texas, California, Arizona and California. Hopdoddy's is a name that you'll hear more and more frequently as they continue to expand their fantastic chain.
Hopdoddy Burger Bar Review
Every Hopdoddy location is designed with the same slick, modern elegance. They are intended to provide easy dining in a convenient fashion and they're impeccably clean. The staff at each location are helpful, friendly and create a good atmosphere, even while you wait. With their line method system of ordering, their waiting times have reduced significantly from the early days.
Their menu is focused around their namesake items, along with a few other great products to satisfy those who aren't in the mood for a burger, such as their salads, sides and delicious selection of crafted drinks. Their crafted burgers are really the main course though and the flavour selection is outstanding.
While many of their handcrafted delights are made from organic Angus beef which is ground daily on the premises', they also offer other protein options such as: bison, lamb, chicken, turkey, tuna, Akaushi beef and a black bean corn patty. One of their most popular items is their El Diablo, a combination of an Angus beef patty, Pepperjack cheese, habanero and serrano chilies, caramelised onions, salsa roja and chipotle mayo.
advertisements

The bar also offers a fantastic selection of: beer, wine, handcrafted beverages and cocktails, providing the perfect accompaniment to your meal. Their prices are also extremely competitive and a meal will set you back from $6 to $10. So pop into the next Hopdoddy you see, they will change the way you think about the burger and you'll never want one from anywhere else again.
TOPIC: Hopdoddy Burger Bar Menu Prices