One of the best ways you can spend your vacation is by cruising on the sea and visiting different destinations, like those listed on https://www.inertiatours.com/exciting-activities-you-could-try-while-on-college-spring-break/. It's often considered a luxurious vacation experience because you get to do everything on a ship while you're traveling – get a spa treatment, bathe in a pool, play sports or casino, and of course, eat wherever and whenever you want. 
It's said that a part of every cruise line's goal is to make sure none of their passengers get hungry. That's why many cruise passengers claim that during their cruising experience, everything they do on the ship almost involves eating.
Making Apt And Healthy Food Decisions
While most cruise management companies make sure that everyone is satisfied in serving their cruise-goers the best food possible, it may be hard for some to control how much they're eating if they don't police their intake enough. It's believed that one can easily consume food items that amount to thousands of calories a day while on a cruise. However, despite being surrounded by endless food and beverage choices, you've got choices that'd help you to maintain a healthy diet.
Fortunately, cruise lines also make sure that they cater to all types of eaters, including the health-conscious ones, by putting out various food choices. So, before choosing the best cruise itineraries available out there, here are some tips to help you eat a well-balanced diet while on a cruise.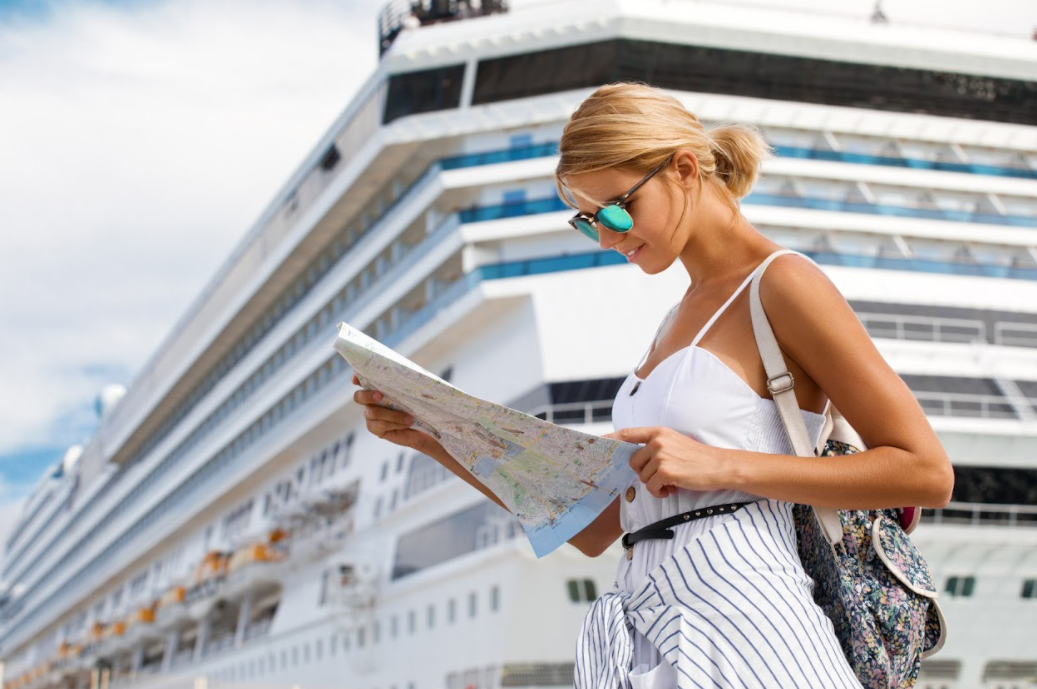 1. Disclose Your Dietary Preferences During Booking 
Alerting the cruise line ahead about your dietary preferences can significantly help you stick to your healthy diet even while on a cruise during the booking process. Normally, cruise lines would ask their guests about any specific detail that may help improve their stay. It may be about your existing allergies, phobia, and of course, your diet. If you have notable food intolerances, alert them right away. The catering manager will then be notified about your dietary needs the soonest and make sure every portion order they serve is appropriate for you. Before booking, learn about the common causes of cruise ship accidents.
2. Be Smart In Choosing Your Dining Venue 
It's normal for cruise ships to have multiple dining venues to help cater to all their passengers' specific needs and cravings. One type of dining venue that'll always be present is the all-you-can-eat dining buffet. This type of dining setup is said to service the greatest number of guests every time compared to other eating venues because of the unlimited portions a passenger can avail. Unfortunately, this could possibly lead you to overindulge and make bad food choices.
Therefore, if you're determined to stick to your healthy diet while on a cruise vacation, you need to be wise in picking your dining venue. If you have a hard time resisting unlimited food servings, it may be best for you if you choose the main dining room instead where they only serve fixed and plated portions. That way, you'll have control over what you eat as you'll only base it on the fixed portions they did for you. 
3. Minimize Alcohol Intake 
Alcohol will always be present on every cruise. In fact, it's often included in your ticket's cost. It's also one way to help guests unwind and feel more relaxed during the trip. Still, even if lots of alcoholic drinks are surrounding you, it's advised to drink in moderation. Alcohol is known to cause excess belly fat and might even ruin your healthy appetite.  
So, instead of abstaining completely on alcohol, let yourself enjoy a sip of a tiny glass of red wine for accompanying your filet mignon. But for a better alternative, you can drink a glass of sparkling water mixed with lemon.
4. Don't Pressure Yourself To Order Every Course 
Part of the cruise experience many managers strive to offer is to make every passenger feel pampered and treated like royalty. This may be done in a number of ways and one of them is by giving everybody a large selection of food choices. On top of that, top-notch crew and staff members attend to your needs almost every moment while you're on board, striving to give you the best experience possible. 
All of these are said to send a passenger in a state of euphoria for they get to experience something which is vastly different in their normal waking lives. This may possibly lead you to overindulge in luxurious food items you don't normally get to have a taste and enjoy. 
It's advised that you don't let other people, especially the waiters, pressure you into ordering an additional course. If they nicely ask and serve you, you can politely decline their offer and make sure only to eat what you can finish.  
5. Ask For Half-Portions 
Everyone keeps talking about how amazing it is that guests have the freedom to order three main courses and two desserts if they please. But the thing they don't mention more often is that guests are also free to ask for half-portions or appetizer-sized portions for main dish orders and desserts. If you want to have a taste of a large pool of food orders, you can ask for smaller portions to monitor your food intake amount.  
6. Cut Back On Desserts 
One of the best things about cruise ships is you get to try out so many dessert types inspired by different countries and cultures. However, it's recommended that you limit your dessert intake to only a tiny, sweet splurge a day. You can do this by taking a few bites and not finishing the entire slice of pie or ice cream you ordered. It'll also be ideal if you share a plate with a friend so you can both cut back on calories and excess sugar. Most of all, don't hesitate to approach the counter and ask for their sugar-free treats. 
7. Eat More Protein During Breakfast 
The best way to start your day is by eating a nicely cooked breakfast rich in protein. Protein is known to make you feel full faster and longer, reducing your chances of getting hungry during the day and crave for snacks. Aside from that, a high protein breakfast will also support your weight loss goals and weight management. If you're planning to get off early for an excursion, you can order room service for a protein-rich early morning breakfast. You're on vacation, savor it!
8. Skip Late-Night Dining 
Most cruise lines offer a 24-hour food option, and it's also available for room service. That's why many guests are said to be attracted to availing it oftentimes at midnight as part of the paid experience. But you must know that eating at night isn't healthy, much more if you're ordering a bag of chips and a giant cheeseburger. If you're conscious about your health, avoid after-dinner meals or snacks and stick to a healthy bedtime routine. 
Enjoy Cruising! 
Switching to healthier choices doesn't mean you'll have to sacrifice the joys of traveling. So, go easy on yourself and don't forget to enjoy the experience. Perfection is not the primary goal; instead, it's about finding the balance between indulgence and reason.
advertisements

In addition, when you or anyone you know has been hurt on a cruise, it is very important to consult with an experienced cruise ship accident attorney quickly. You may way want to check that site similar to https://www.aronfeld.com/maritime/ for more valuable info!