Are you wondering why you take such a long time to cook? It all begins with your level of preparedness. What type of equipment is in your kitchen? What size and grade of quality are they?
For sure, at one point or the other, you may have found yourself finding a substitute for a particular utensil. Running around the kitchen because of poor organization is stressful. What if you have guests? You keep thinking, 'Damn! The guests are hungry, and I'm late.' In the long run, you end up messing your cooking and embarrassing yourself.
Therefore, if you have a properly equipped kitchen, having a classic meal is likely. Found on Healthy Cookware Lab are the best deals in kitchen equipment.
This article shows you all that you need in your kitchen.
Preparation Equipment
How you start your cooking determines the time and quality of food you will make. Before doing your cooking, you must prepare your food correctly. That translates to what tools you are using to do your preparations. Most importantly, look at the type of foods you want to prepare. The choice of food determines the preparation tools.
Liquid Measuring and Mixing Utensils
When dealing with liquids, you will need measuring cups. These will help you to accurately measure the amount of milk or water you want to use. You wouldn't want to prepare excess food and take it to the bin, would you?
Again, it would be best if you had mixing bowls. These come in as a great help when you want to bake something. Still, you can use them to beat an egg for frying, and so forth.
Chopping Equipment
Imagine struggling to chop cabbage in a bowl? It takes time and skill to master that. Why waste time on such a tiresome process? Plus, the chances of you cutting yourself are high. Hence, you require a chopping board to save your time.
Chopping boards differ in the type of material they craft. Of course, nobody wants to get a flimsy plastic board that will burn or break in a day or two. Even if you are going for plastic, ensure that the unit is sturdy. Wooden boards are perfect for cutting foods with low moisture content. Ensure you don't use your wooden board for raw meat. You will only blame yourself when it starts smelling after a while.
Cutting, Peeling, and Squashing Utensils
Pick durable knives, preferably with plastic, rubber, or metallic handles. Those with wooden handles often break after some exposure to moist conditions. Besides, you don't use your knives to stir the steaming food. Thus, metallic handle knives are the best.
Other vital cutting and peeling equipment are potato peeler, zester, and grater. Some people do not want to see tomatoes in there food. Therefore, squashing the tomatoes is a great way to get them to take the nutritious fruits. If you love your cooking, you may want to invest in smashing tools. These include things like juicers, blenders, and garlic presses.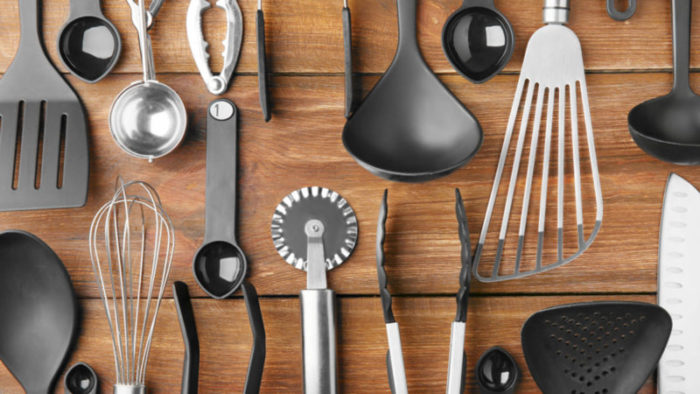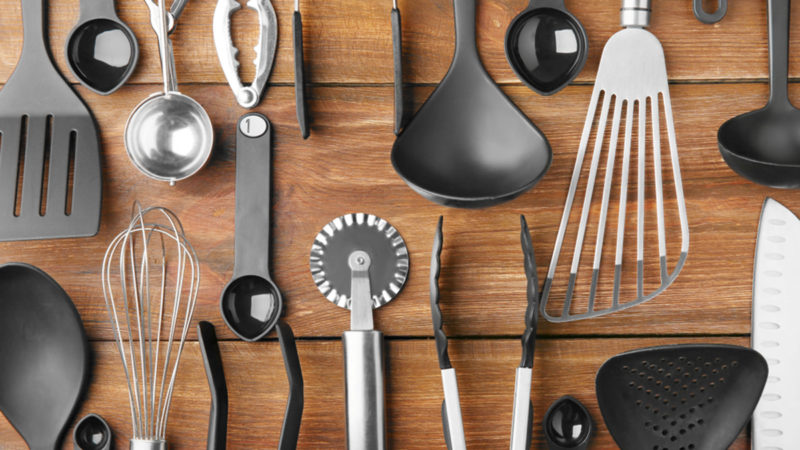 Cooking Utensils
Pots and Cooking Pans
After quality preparation, you will need the right utensils to do your cooking. Imagine preparing an omelet or making pancakes on a cooking pot. The output may not be as effective as you want it to be.
It is essential to get a set of cooking pots with various sizes. There is no need to struggle to cook a meal of one on a large cooking pot. Also, please take note of the materials your cooking pots come from and ensure they are durable. Not to mention, having lids on all your cooking pots will enable you to cook quickly.
Have an assortment of cooking pans. These will be useful when you are making eggs or stir-frying. Something else to consider is casserole dishes of various sizes. With them, preparing lasagna or scalloped potatoes is a breeze.
Stirring Utensils
Of course, you can't cook without the necessary stirring utensils. Otherwise, how will you determine that your food is ready in entirety? Arm yourself with an assortment of wooden and non-conductive handle spoons. You don't want to burn your hands as you stir your food, do you?
Other things to get include whisks, tongs, spatulas, and rubber scrapers. This expansive assortment ensures that you are ready for any situation in your kitchen. Again, choose several sizes so that you can handle different amounts of food with ease.
Baking Equipment
Not everyone is a baker. However, you may still find some bakeware vital in your cooking. Some utensils that you can bake and even cook with are cookie and baking sheets. These are perfect when making roast vegetables, chip cookies, baked chicken, among others.
The type of cookie sheet does matter. Those without sides will ease your experience as you can easily access the cookies you have made. Some vital tools to look for if you are running a bakery include baking pans, cake pans, and muffin tins. With all these, you will enjoy making your muffins, cakes, and brownies.
Additional Kitchen Appliances
You may have moved into a massive mansion where you have access to things like fridges and ovens. Yet, some vital kitchen equipment may still not be there. Do you love coffee and tea? Get your espresso machine and tea maker to enjoy quality beverages. Cooking pots may still work, but your beverage flavors and quality have limits.
Once cooking is complete, you still need to serve your food. Get yourself various cutlery and dishes, depending on your preferences. Equally important, you need drinking glasses and cups. A cutlery divider will allow you to arrange your cutlery neatly.
What's more?
You require dish towels, oven mitts, food dishes, a drying pad, and drying racks.
Parting Words
For an enjoyable cooking experience, you need to have several tools to assist you. The right utensils will see you effortlessly prepare, cook, and serve your food.
advertisements

More often than not, people forget that they need a garbage bin too. So, you may want to get one to avoid the countless trips from your kitchen to the compost pit. That is if you have one.