You'll rarely find people who don't like to eat fried fish. But, how many people can fry fish properly on their own? The number will surely be minimal, right? Why the maximum number of people can't fry fish? Because, when they wish to eat fish fry, then maybe the restaurant names come first and they never try to do it themselves.
But, it is possible to fry fish deliciously with the proper ingredients. For that, proper guidelines should be followed where all the necessary steps have been described in simple ways.
In this write-up, we have provided two different ways to fry fish. The first one is with a Fish Fryer, and the second method is with a Pan. You can follow any of the methods depending on your convenience. So, without any further ado, let's get started.
How To Fry Fish With Fish Fryer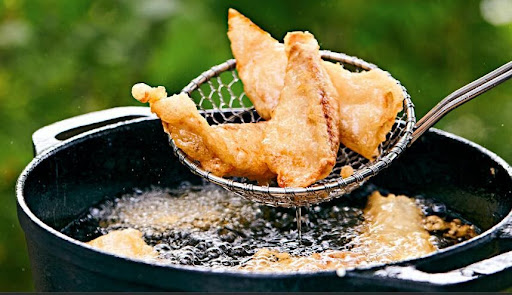 Frying fish with a fish fryer, or deep fryer is simple and can be done within a couple of minutes. First, of all, you need to have a Fish Fryer. You can purchase an outdoor fish fryer at a cheap rate from amazon. Here is our Cheap Outdoor Fish Fryer Review that you can check before getting one.
However, let's see what ingredients you'll need to fry a fish.
| | |
| --- | --- |
| Buttermilk | ½ Tablespoon Salt |
| Fish | Egg |
| Vegetable Oil | Strainer |
| 1 Cup Flour | Slotted Spoon |
| 2 Tablespoon Pepper | Paper Towels |
Now move to the frying process. Here we have presented the entire method step by step.
Step-1
First, take a fish that is perfect for frying on a fish fryer. We recommend having neutral fish like Catfish, Alaskan Cod, Flounder, Tilapia, Hake, Halibut, or perch. Now, cut the fish into chunks and take them in a bowl. After that, include a sufficient amount of buttermilk to cover up the chunks to remove any fishy smells or taste. Put the closure on the bowl and keep it in the fridge for an hour.
Step-2
In the second step, get a bowl and mix the 1 cup flour, 2 tablespoon paper, and ½ tablespoon and then mix properly. You can include more or less black pepper, salt, and flour depending on your teste, and fish portion.
Step- 3
Pour vegetable oil on the fish fryer as much as the required amount and set the temperature to 350 Fahrenheit. Now, place a strainer over a pan and put 2 or 3 sets of paper towels on a plate to further detach excess grease.
Step-4
In this step, you need to get the bowl that you kept in the fridge out. Later, take the fish chunks out of the bowl and rinse with fresh cool water and keep them on a clean plate. Remove the previous buttermilk from the bowl properly and then mix an egg, 2 cups of buttermilk, and pour the chunks of the fish on it.
Step-5
Get the fish chunks out from the buttermilk mixture and dredge with flour. Now, it is time to drop the small number of chunks into the fish fryer. Try not to fry so many chunks at once as the batter won't crisp accurately. A basket should not be used when you cook fish on a fish fryer because the batter may stick into the basket.
Step-6
Fry the fish for 5 to 6 minutes, or until it becomes golden brown. Take a slotted spoon to lift the fried fish from the hot oil and put it in the strainer. Following the manner, fry the rest of the fish properly.
Step-7
In the last stage. Move the drained fish fry from the strainer to the plate with the paper towels. When all pieces of the fish are perfectly fried, turn the fish fryer off and enjoy your own made fried fish.
How To Fry Fish With a Pan Perfectly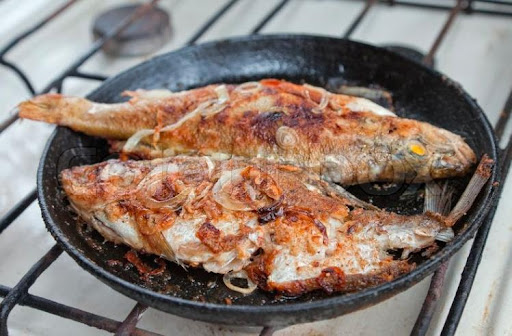 Frying fish with a pan is comparatively easier than frying with a fish fryer. You just need to assemble some of the ingredients. Here we have assembled a list of things that you'll need to fry a fish maintaining proper taste.
| | |
| --- | --- |
| Vegetable Oil | 3/4 Cup Cornstarch |
| 2 Eggs | 1/4 Cup Water |
| 2/3 Cup Milk | 1 Tablespoon Ground Pepper |
| 1 Tablespoon Apple Cider Vinegar | ½ Tablespoon Garlic Powder |
| 1 lb Fish | ½ Tablespoon Onion Powder |
| 1 Cup Flour | ¼ Tablespoon Salt |
Step-1
First, choose a white fish like Haddock, Cod, Halibut, Sole, or Tilapia as all of them hold mild flavor and are a better choice for fry.
Step-2
Clean the selected fish with cold fresh water and then cut it into desired sized pieces and keep aside.
Step-3
Put a cup of flour, and 3/4 cup cornstarch in a bowl and blend them properly, and then set to the side.
Step-4
Now take another bowl and pour 1 Tablespoon Apple Cider Vinegar, 2 eggs, 1 Tablespoon Ground Pepper, ½ tablespoon salt, ½ Tablespoon Garlic Powder, and the pre-measure onion powder and then mix properly.
Step-5
Now in this step, pour all the pieces of the fish into the mixture and submerge them entirely. Keep the mayonnaise for 45 to 1 hour.
Step-6
Get the bowl after the definite period and take every single piece of fish from there. Now, dredge the pieces with the flour mix that you have made first.
Step-7
Bring the vegetable oil and fill a pan around 1/2 inch deep and heat it over a medium temperature for a couple of minutes or until the oil is boiled. After that, drop the pieces of the fish into the hot water and fry them until they turn golden brown.
Step-8
When you see the pieces of the fish are fried properly, take a strainer and lift them up from the hot water, and put them on a plate covered with paper towels.
advertisements

Final Thought
So, it was all about How to Fry Fish. We provided 2 effective methods that you can try at your home. Several ingredients have been enlisted in the list, you can use more or fewer ingredients according to your taste bud, or can simply use the same ingredients that we have given. So, why are you getting late? Try it now and look how well you did.