A vegan diet consists of foods derived only from plants and excludes the consumption of animal-derived products. Veganism is healthier and more environmentally friendly. While it may be a challenging task at first, you can make lasting changes with these tips and tricks. Many vegans are concerned about finding healthy vegan snacks when they become vegans or adopt a vegan lifestyle.
Convenience and convenience alone are not enough to justify the production of snack foods. There are now more vegan snack ideas on the market, changing this trend. Look for prepackaged vegan snacks with minimal processing and don't contain artificial sweeteners if you are in a rush.  Fiber can help you stay fuller longer and improve your gut health, so you should also choose high-fiber snacks whenever you can. It's a plus if your snacks have prebiotics, probiotics, or essential nutrients you can't get without animal products, like vitamin B12, iron, calcium, and vegan protein.
Things to consider
Prepare yourself. Always have healthy snacks at hand. Carry them with you at work, school, and in your car. Healthy snacks make it easier for you to select snacks rather than candy bars or chips.
Replace high-fat snacks with healthier alternatives. Instead of potato chips and dip, try baked tortilla chips with bean dip or hummus.

Create an exciting snack. Dip sliced fruit in low-fat

yogurt

sprinkled with cinnamon or nutmeg if you do not like plain fruit.

Utilize seasonal offerings. Summer seasons offer many opportunities to enjoy fresh fruit. Summer heat can be combated by eating fresh fruits.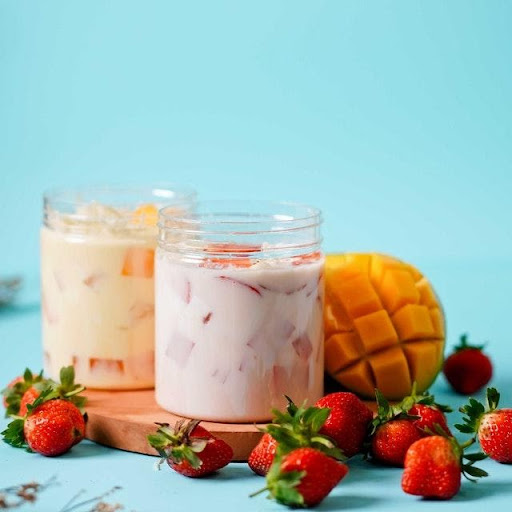 Foods that make quick, healthy snacks
Food that is healthy to eat as snacks are yogurt, popcorn, string cheese, applesauce, dried fruit, whole wheat crackers, low-fat yogurt. Also, healthy snacks include unsalted nuts, pretzels, apple slices, cherry tomatoes, and baby carrots.
advertisements

Ideas for snacks
A protein-rich dip to eat with raw apples, carrots, celery, and pretzel sticks is easy to make with honey and peanut butter or almond butter. It also tastes great on whole-grain crackers, bagels, and rice cakes.

Make a smoothie with low-fat yogurt and fresh or frozen berries. Make a fruit parfait by topping with sliced almonds and granola.

Add sliced tomatoes or strips of red pepper to the crackers and top with cottage cheese or ricotta.

Combine high-fiber cereal with dried fruit (such as dates, blueberries, and cranberries) and nuts (almonds) to make your healthy trail mix. It is excellent for topping yogurt, too.

Low-fat cream cheese can be spread on whole-grain bagels. Combine cream cheese with raisins and sunflower seeds for an added taste.

Salad dressing or hummus can be used to dip colorful sliced vegetables. A variety of peppers, including yellow, orange, and red ones; broccoli; cauliflower; and cherry tomatoes, is also good.
To satisfy your sweet tooth, slice up watermelons, fresh mangoes, and strawberries. Eat more whole grains, fruits, vegetables, and low-fat milk products as part of a healthy diet. It's easy to make sure that you get enough of these nutrients with healthy snacks. Get started now.