Do you have a special event coming up? It doesn't have to be a bachelor's or wedding to have a buffet for your guests. Although a buffet is simply putting out vast amounts of delicious foods, there are some things to keep in mind to make sure it's a success.
Consider herd movement and plan accordingly.
People move in groups when there is food involved. They resemble a school of fish rather than humans. They move in waves, then pool in eddies, standing and munching without regard for how near they are to the table or how they could obstruct the flow of other hungry humans.
Consider the Big Picture
You don't need to go crazy with a theme—no one wants to be invited to a pumpkin-only dinner party—but having coherent tastes that connect all of the plates on your table helps. Ottolenghi is well recognized for his Israeli and Persian-inspired flavors that balance hot elements (harissa, Aleppo pepper) with complex spices (fenugreek, cinnamon) and refreshing brighteners (citrus, orange-flower water). Every item on Ottolenghi's table makes sense when eaten together, from smashed carrots with pistachios to eggplant with black garlic. Take a cue from him and design a meal based on complementary flavors within the same cuisine. "Nothing should clash. No "bring anything" potluck type of food combinations.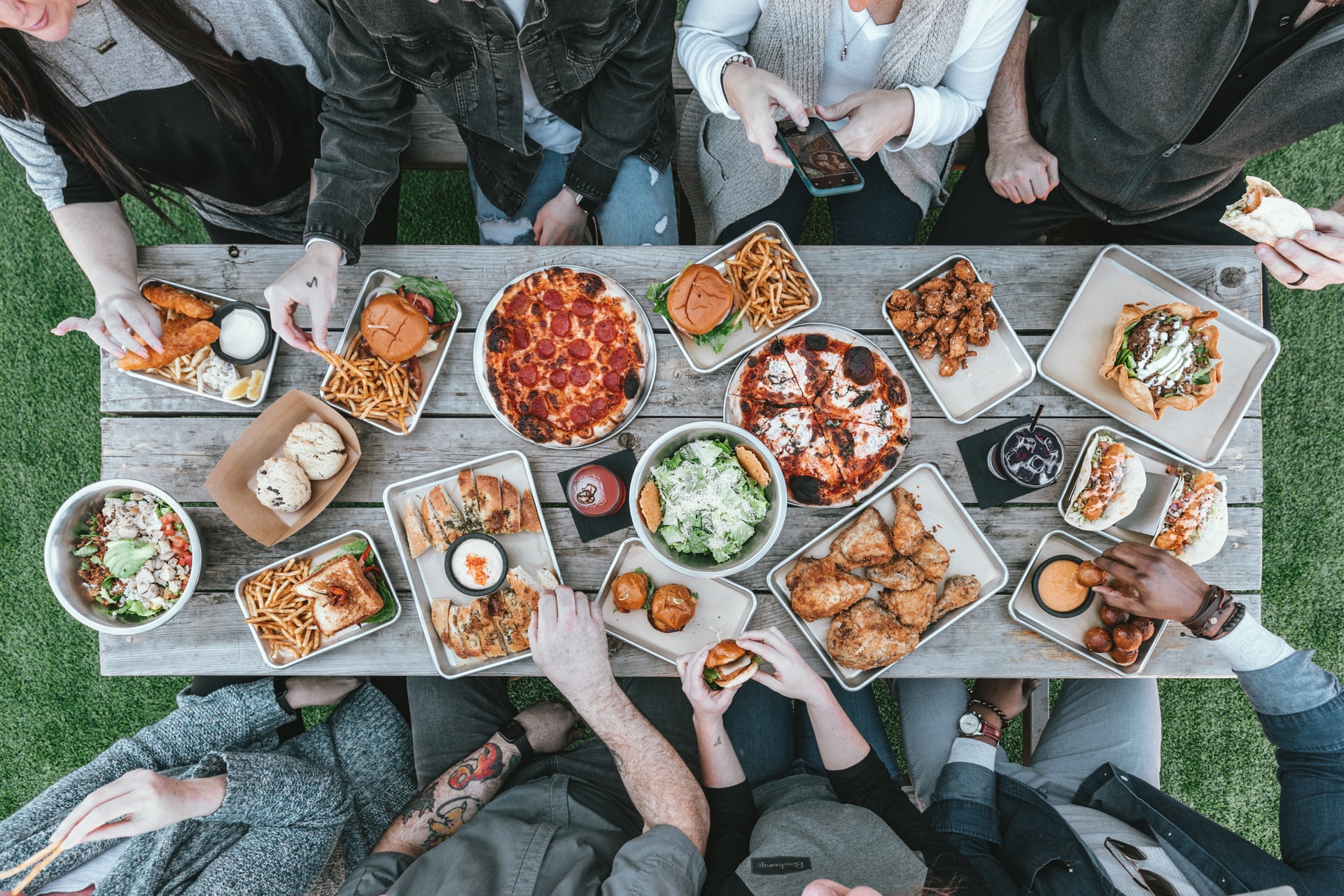 Prepare
The key to a sumptuous buffet is to ensure the visitors didn't have to make any extra effort when it is time to dive in: for example, a delicious cauliflower cake pre-sliced into tiny slivers, so all guests have to do is transfer it from the platter to their plate. (Note: Make sure you have all of the necessary utensils!) If you ask your visitors to perform the slicing, splitting, or carving, you may have cumbersome chunks. Furthermore, it is easier to distribute pieces in the kitchen than in the middle of a party. When it comes to meals that can't be readily divided into discrete pieces, choose easily scoopable foods, such as thick dips and spreads, and avoid anything that can leak off the serving spoon onto your tablecloth or, worse, your guest's clothes.
One Plate, One Fork
A buffet diner must juggle a drink, their meal, and lively conversation with the other diners. So don't make it difficult for them by using many bowls, plates, and flatware. Your visitors should just require a fork (unless we're talking about an ice cream buffet). Remember that not everyone will be able to locate a level place for their plates, so using a knife may be difficult. If you have to offer steak, make sure it's finely cut so you can eat it in one mouthful.
When dining at a stand-up dinner party, tortillas, flatbreads, buns, and rolls make fantastic delivery vehicles. While we like a delicious soup or stew, these dishes are best served at a table with a separate pitcher. Nothing should drip off plates because it's too saucy or runny.
Keep It Simple
A light and filling meal, leaving everyone eager for another round at the buffet, is the best way to start it. Of course, you may serve meat, but you should also add some fresh, crisp alternatives to keep the spread from feeling too heavy. Instead of serving plain austere lettuce, include a few interesting salad alternatives with some tactile interest such as crushed nuts, cooked grains or lentils, and shaved raw veggies.
Speaking of keeping it simple, don't forget to make your buffet table simple yet elegant. Too many props would get in the way of people getting their food. Best to place simple memorabilias on the side of the table. Make it more personalized by engraving your unique wedding hashtags on the props.
Another item you may eliminate from your menu? Courses. At a perfect buffet, there isn't an appetizer, salad, soup, and main-course thing going on. Each item eats like a delicious snack, making it perfectly OK to mix and match whatever you want. A good buffet will let guests pick their journey, while a great buffet will ensure that each conclusion is equally delicious.
Don't Sugar-Shock 'Em.
The appropriate finale to a dinner buffet should be a crowd-pleaser, not saccharine, once the feasting frenzy has subsided. Bringing out a final dessert that everyone, despite being completely satiated, will still enjoy – is how any buffet should be concluded. Your desert should be a pleasant way to complete the evening.
advertisements

Buffets are a great way to feed large amounts of people with good delicious food. When it is done correctly, the buffet, combined with the engaging conversation, becomes the entertainment of the evening, when this is the case, congratulations! You have pulled off a legendary buffet.