Jimmy John's is a world renowned franchised sandwich restaurant chain that specializes in home deliveries. Jimmy John's was founded in 1983 and has its headquarters in Champaign, Illinois. Jimmy John's chain has achieved phenomenal success and in just 30 odd years it has spread to over 2,000 locations in 43 states.
Jimmy John's opens new branches every year at various locations. In fact, it has opened nearly 200 locations each year for the past 3 years or so. As of April 2016, there are close to 2400 locations of this iconic restaurant chain in the US. It is interesting to note that almost 98% of the locations are franchise owned.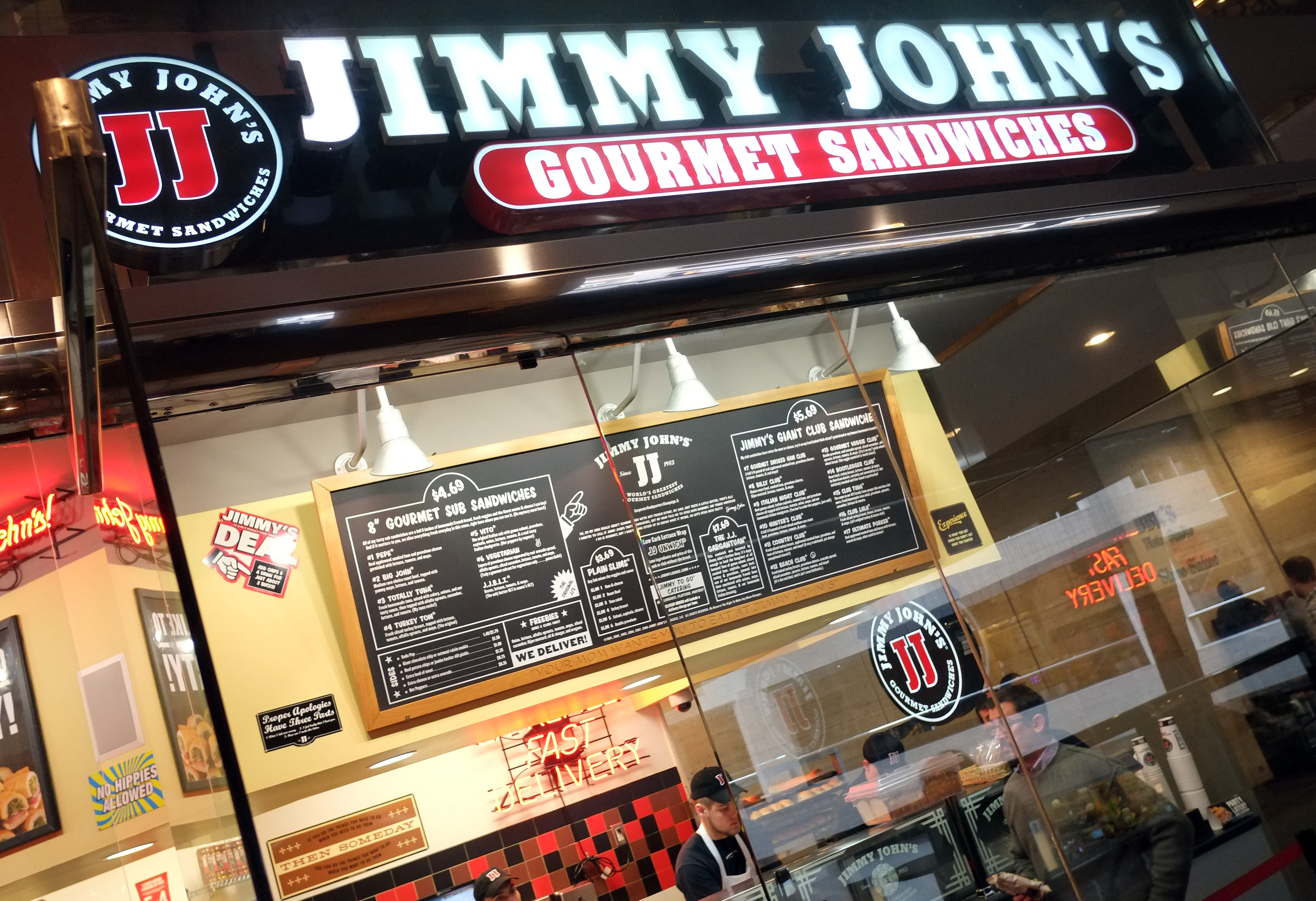 Jimmy John's Menu Prices
Item
Size
Price
8′ Sub Sandwiches
Pepe
8 in.
$5.50
Big John
8 in.
$5.50
Totally Tuna
8 in.
$5.50
Turkey Tom
8 in.
$5.50
Vito
8 in.
$5.50
Vegetarian
8 in.
$5.50
J.J.B.L.T
8 in.
$5.50
Plain Slims
Any Sub Minus The Veggies and Sauce
Ham & Cheese
8 in.
$4.00
Roast Beef
8 in.
$4.00
Tuna Salad
8 in.
$4.00
Turkey Breast
8 in.
$4.00
Salami, Capicola, Cheese
8 in.
$4.00
Double Provolone
8 in.
$4.00
Giant Club Sandwiches
Twice The Meat or Cheese
Gourmet Smoked Ham Club
8 in.
$6.50
Billy Club
8 in.
$6.50
Italian Night Club
8 in.
$6.50
Hunter's Club
8 in.
$6.50
Country Club
8 in.
$6.50
Beach Club
8 in.
$6.50
Gourmet Veggie Club
8 in.
$6.50
Bootlegger Club
8 in.
$6.50
Club Tuna
8 in.
$6.50
Club Lulu
8 in.
$6.50
Ultimate Porker
8 in.
$6.50
Other Sub Sandwiches
The J.J. Gargantuan
8 in.
$8.50
Sides & Drinks
Soft Drink
Regular
$1.39
Soft Drink
Large
$1.59
Dasani Water
Bottle
$1.25
Chocolate Chunk Cookie
$1.50
Raisin Oatmeal Cookie
$1.50
Real Potato Chips
$1.25
Jumbo Kosher Dill Pickle
$1.25
Party Platters
Mix & Match Any Sub
5 Sandwiches Platter
15 Pc.
$28.50
10 Sandwiches Platter
30 Pc.
$56.00
Party Subs
Party Sub
2 ft.
$40.00
Party Sub
4 ft.
$75.00
Party Sub
6 ft.
$110.00
Party Sides
Chocolate Chunk Cookie Tray
12 Pc.
$18.00
Raisin Oatmeal Cookie Tray
12 Pc.
$18.00
Six Of Each Cookie Tray
12 Pc.
$18.00
Jumbo Kosher Dill Pickle
Bucket
$5.00
HISTORY OF Jimmy John's
Jimmy John's chain was founded by John Liautaud in 1983. There is a story that when John graduated from Elgin Academy in 1982 (he was 2nd last in his class), his father gave him only 2 options a join the military or start a business. Liautaud was quick to accept the 2nd proposal and decided to start a business.
He started a hot dog business with a loan of USD 25,000 from his father where his father owned 48 share and the rest was owned by the son. But as soon as John realized that a hot dog business would be an expensive affair, he decided to open a sandwich shop. On 13th January, 1982 John opened his first sandwich restaurant in a garage in Charleston.
In 1985 Liautaud bought his father's share in the business and became the sole owner. He opened the 2nd store at Macomb (IL) and the 3rd one at Champaign (IL). He opened several more stores and began franchising in 1993. The 1st franchise store opened in Wisconsin and the 100th store opened at Michigan in 2001.
The restaurant chain ranks among the 3 most popular restaurants for business meals. It also boasts of the highest brand loyalty among the all the restaurant chains. In June last year it sponsored the former NASCAR champion Rusty Wallace for his Off-Road debut at the 2015 X Games. It also has a sponsorship agreement with Brock Lesnar of WWE fame.
Jimmy John's REVIEWS
Jimmy John's has always received excellent support from its customers. They love the delicious sandwiches and are greatly impressed by their super fast service. In fact, the moment you tell the cashier your order, they are already preparing it. The Vito sandwich with hot peppers which comes for around USD 7 is one of the most popular items here.
One look at the customers at any of the outlets and you will get an impression that people are very happy with the location of their restaurants. For example, the restaurants which are located in the business or financial district get very crowded during the lunch hours. The queue is always quite long but it moves really fast. The office goers are very happy with the size of the sandwiches and meat, the provolone cheese and the vegetables used are all of exceptional quality.
The Giant Club Sandwiches are usually ordered by those who are looking for a wholesome meal. Priced at USD 8, they come in a wide variety of fillings like medium rare roast beef, Genoa salami, real smoked ham or one may opt for the BEACH CLUB which has fresh baked turkey breast.
The best part about Jimmy John's is that 99% of the sandwiches are priced under USD 10 which is a great boon for the price sensitive customers. The ambiance of the stores is also great as it boasts of a soft interior and an appealing exterior look. In a nutshell, this restaurant chain is one of the best places to have your sandwich without creating a hole in your pocket.
advertisements

TOPIC: Jimmy John's Menu Prices