There is one Chinese dish that needs no translation – Kung Pao Chicken 宫保鸡丁. Like the ultimate adjective and onomatopoeia of the Chinese language. Half kung fu, half Pow! Exciting, spicy, and dangerous. Yet one-dimensional.
And unfortunately, most versions of kung pao chicken are very much that – flat. Some chili peppers, or merely red chili flakes dumped in, to cover the lack of flavor. The typical version served at a local Chinese take-out. While the sound of the dish may correctly represent its simplified American version, the real dish in Sichuan cooking deserves a closer look…and taste.
As is the case when researching the origins of any Chinese dish, you are led down an endless road of fictional tales, each more colorful than the one before. Stories that tickle the tongue and mind with the complexities of Chinese language, and test the limits of English translation.
But when you trace your steps back, you conclude with the simplest of explanations. Kung Pao Chicken was named after a Qing Dynasty official and governor of Sichuan Province in the 19th century, who went by the title of "Gongbao" – meaning Palace Guardian. It was more than likely his favorite dish.
Even though Kung Pao Chicken has now become synonymous with cheap Chinese food, its link to a powerful man in Chinese history and to his palace kitchen – where surely the best chefs of Sichuan were working at the time – allude to an original dish that was more intricate and delicious.
A successfully executed Kung Pao Chicken encapsulates the essence of Chinese cooking – the complete presence and balance of color, shape, aroma, texture and flavor 色香味形俱全.
This is accomplished through skillful stir-frying, and with some of the essential ingredients in Chinese cooking like Chinkiang black vinegar, Shaoxing rice wine, soy sauce and dark soy sauce, fresh ginger and garlic, and toasted sesame oil.
And because Kung Pao Chicken is a Sichuan dish – spicy red chili peppers & Sichuan pepper. In no other dish is this pairing of burning and numbing sensations more pronounced. It's a key aspect of the recipe that's missing in American-Chinese cuisine since Sichuan pepper is rarely added in to balance the dish.
Kung Pao Chicken should not only have bursts of heat and a tingling on the tongue, but also a depth of flavor that hints at its sweet, salty, rich, and vinegary elements. A taste best experienced when you cook up the dish at home. Because the true meaning of "take-out", is taking out all the good ingredients that should be added in.
Print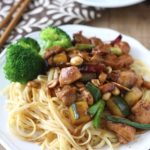 Kung Pao Chicken with Noodles
---
Scale
Ingredients
4

servings of linguine

1

lb chicken thigh fillets – trimmed and diced into small cubes

2 tbsp

peanut oil
Dried red chilies* – broken into half

2

–

3

cloves of garlic – sliced diagonally or minced
One knob of fresh ginger – shredded thinly

1/2

cucumber – diced

2

–

3

scallions – cut into

2

" length pieces

1/2 cup

roasted, unsalted peanuts

1 tsp

of Season with Spice ground Sichuan pepper, or more to taste
Marinade:
1 tbsp

cornstarch

1/2 tbsp

reduced sodium soy sauce

1 tbsp

Shaoxing rice wine (Chinese rice wine)
Kung Pao sauce:

2 tbsp

reduced sodium soy sauce

1 tsp

dark soy sauce

3/4 tbsp

Chingkiang black vinegar

2 tsp

sugar

1 tsp

cornstarch

1 tsp

toasted sesame oil

4 tbsp

water or chicken broth
---
Instructions
In a bowl, combine the diced chicken with marinade. Mix well and let marinate for at least 20 minutes. Or cover and refrigerator for a couple of hours.
Stir together the Kung Pao sauce ingredients in a small dish. Set aside.
Bring a pot of water to a boil and cook the noodles according to package instructions (while cooking, begin steps 4 & 5). When the noodles are done, drain and place on each serving plate.
Heat a wok or large frying pan over high heat. When hot, swirl in one tablespoon of the peanut oil. Add in the chicken pieces and stir-fry the chicken over high heat until just cooked, about 3-4 minutes. Dish out and set aside.
With a paper towel, wipe clean the same wok/pan. Then heat another tablespoon of peanut oil. Add the dried chili peppers and roast over low heat until they start to slightly darken, being careful not to burn them. Add in the ginger and garlic, and stir-fry for about 30 seconds or until fragrant. Turn the heat to high, add in the diced cucumber, and cook for about a minute. Return the chicken back to the wok and give it a quick stir. Then add in the sauce, and toss everything over high heat to mix, allowing it to carmelize. Feel free to add one or two more splashes of water if you like it to be more saucy. Finally, add in scallions, give it a stir, then peanuts and ground Sichuan pepper. Turn heat off and dish out equal portions of the Kung Pao Chicken over the linguine. Serve the noodle dish hot with steamed greens/broccoli florets. Enjoy!
Notes
Kung Pao Chicken is traditionally served with steamed rice, but when you make it in your kitchen, I recommend trying it every once in a while with noodles, like linguine. Pasta noodles actually pair very well with Asian flavors, and bring a new spin to popular dishes.
I used ground Sichuan pepper for this recipe for the ease of use. If you prefer whole Sichuan Peppercorns, crush them coarsely and fry them together with the dried chili peppers.
Depending on the type of dried red chili pepper you have on hand, and the level of heat that you can take, will determine the number of chili peppers to use for the recipe. If using our Thai Dried Red Chili Peppers, I would recommend 2-3. If using a Chinese-style dried chili pepper or Arbol chili pepper, you may want to use about 6-8 chili peppers.
Originally posted 2019-03-26 12:28:14.