Planning a trip with a dubai travel agency to Dubai and wondering what is on the platter for you? Well, worry not! With a combination of Iranian, Lebanese and Arabic food, the Dubai cuisine will only leave you craving for more. Head to the streets or restaurants in Dubai, you are surely in for a delightful experience. Whether a foodie or not, you just can't ignore the luscious flavors that Dubai cuisine has in store for you.
The titillating aroma of the piquant delicacies in Dubai will give you a foodgasm for sure. From vegetarians to non-vegetarians, Dubai has something for every foodie. Take a look at all the gastronomical delights that will make your stomach growl with hunger.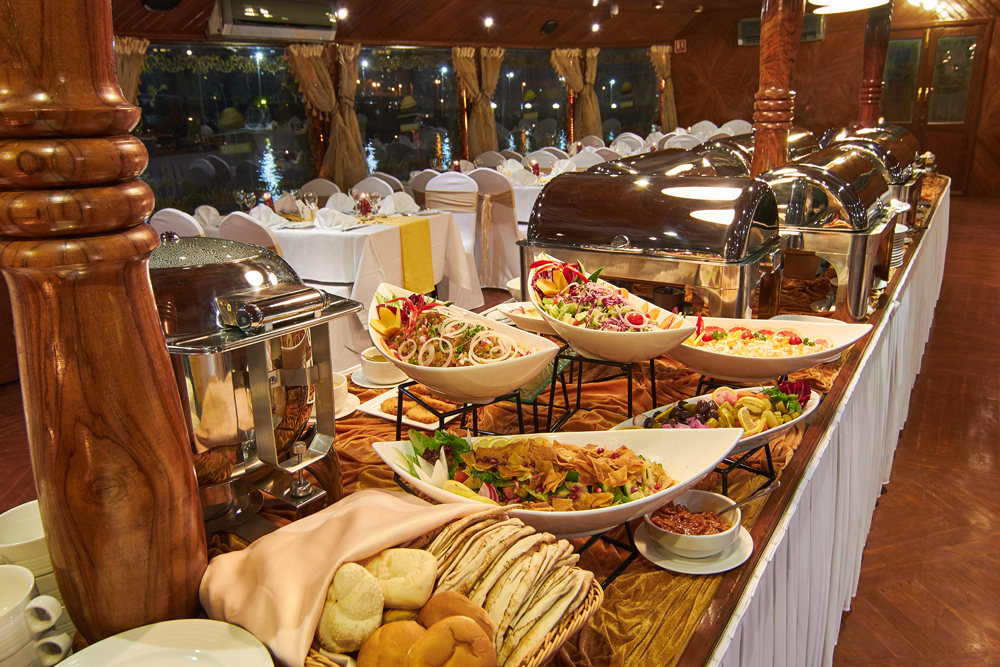 Vegetarian Dubai Cuisine
1. Kousa Mahshi – Taste The Classic Spices
Kousa Mahshi is a classic from the list of best foods in Dubai. Eaten as a main course, it is courgettes or zucchini stuffed with rice. Its lip-smacking taste has also helped it in making to the list of 'Dubai special food'. This dish has received rave reviews. One of the diners has been quoted as saying that this item is the best in the world. Go ahead and decide for yourself!
2. Tabbouleh – For Those Who Are Health Conscious
Delicious, irrespective of how you spell it. Tabbouleh is a salad, made from tomatoes, green onions and cucumber and is seasoned with fresh mint and lemon juice. Needless to say, it is the best food in Dubai for foodies who are looking for healthier options. The health freaks will be spoilt for choice. Having said that, these salads are renowned all over Dubai.
3. Fatteh – All Things Good In One
Perfect for an early evening meal, Fatteh consists of three layers. Bread soaked in stock forms the foundation, in the middle, we have chickpeas, stuffed aubergines, and finally, there is yogurt and tahini-sauce topping. Treat your taste-buds with this best food in Dubai! You can pair it with paprika and pine nuts. You can find this one in some of the best restaurants of U.A.E.
4. Falafel – Prepared With Love
Falafel, a deep-fried ball or patty made out of ground chickpeas or fava beans, is a delight to eat. This is one of the best amongst Dubai famous food that people love to relish. You can pair it with any bread to have an exceptional dining experience. Make sure to ask the waiter what does the Falafel comprise of because every restaurant cooks it differently. There may be something in the dish that you're allergic to, so don't take your chances and enquire with the waiter first. This one's a must-try Dubai food.
5. Kellaj – A Cheesy Delight
a must try food in Dubai, Kellaj is a bread filled with halloumi cheese and grilled charcoal. This dish is a perfect pick for quenching the small hunger monster bombarding your stomachs. This is one of the best Dubai foods that will satiate your evening hunger! Kellaj has stayed a top-rated dish in Dubai for some years now.
Non-Vegetarian Dubai Cuisine
1. Al Harees
Wheat, meat, and a pinch of salt, when combined with some hours of baking, produce this really wonderful dish that will leave you craving for a second helping. Mostly savored during Ramadan, Eid and weddings, Al Harees is one of the most popular Dubai traditional food. You'll be amazed at how warm and hospitable the Dubai locals are when you ask them where would you find the best Al Harees. It is easily one of the best dishes from Dubai cuisine.
2. Iranian Sangak
Hello bread lovers! Iranian Sangak is a delight that easily paves its way into the list of the best Dubai cuisine. This Iranian leavened flatbread made out of whole wheat is served plain or rectangular in shape. It is the famous food of Dubai which you must try! The bread can also be made gluten-free from scratch. It is the go-to food item for health freaks and foodies.
3. Manousheh
Manousheh, the local pizza, is an apt choice for the piquant taste buds, especially if you are looking for Dubai specialties. It proves to be a perfect pick for a luscious breakfast. Stretched dough or flatbread, filled with exotic toppings like salty Akkawi cheese, earthy zaatar herbs, and olive oil. It is touted as the go-to dish for the best street food in Dubai. Make sure you hog on these with sweet jam and minced lamb. It is popular with both tourists and locals.
4. Al Machboos
Simply cooked, this is considered as the famous food in Dubai. Rice, onions, and meat, seasoned with spices, salt, and dried lemon, does this excite you as much as it excites me? This dish has been listed in the list of famous food in Dubai, due to the zesty flavors. Make sure to try their salad and raita. It is supposed to be heavenly. You'll be surprised at how good this food tastes, considering it looks very plain and unsophisticated.
5. Chelo Kebab
For best food in Dubai, head to Chelo Kebab. Aromatic saffron-scented basmati rice served with a pat of butter on kebabs – Chelo Kebab is another name in the list of mouthwatering Dubai famous foods. You must try this scrumptious non-vegetarian Dubai dishes. It is said to be out of the world and exceptionally tasty.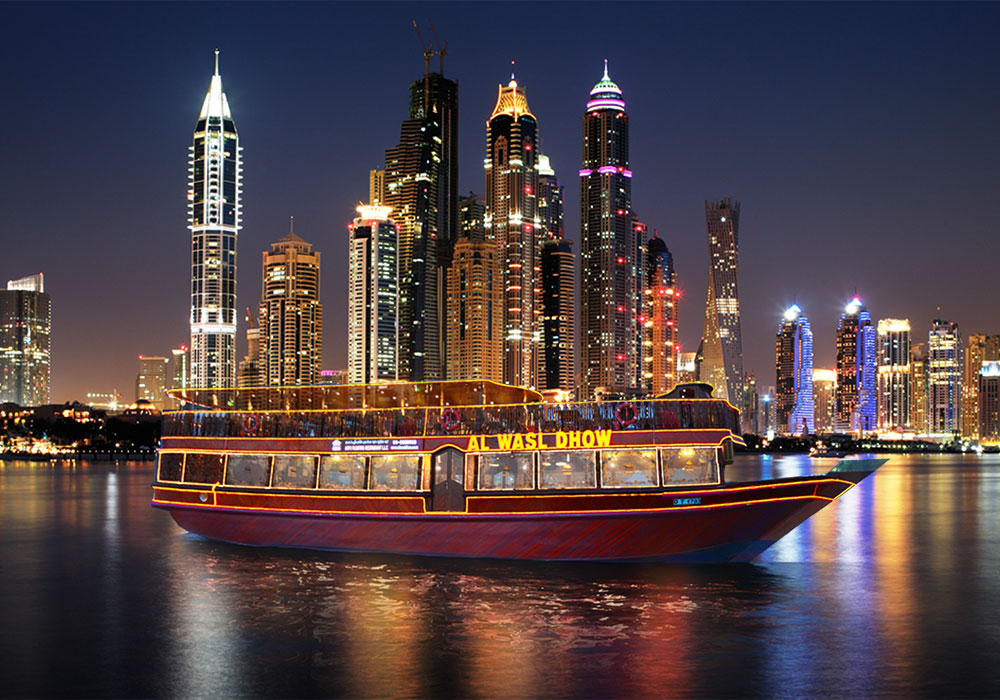 Best floating restaurants in Dubai
The 5-Star Dhow Cruise Dubai Marina is a journey through the Dubai Marina whilst enjoying fine delicacies. Your dinner is prepared by top chefs to present a buffet of 5-Star meal options. Dhow Cruise Dubai provides a choice of international food choices to cater to guests from around the world. Your amazing meal is complimented with a soothing aroma of traditional Dubai scents as well as background Arabic and English music to complete the atmosphere.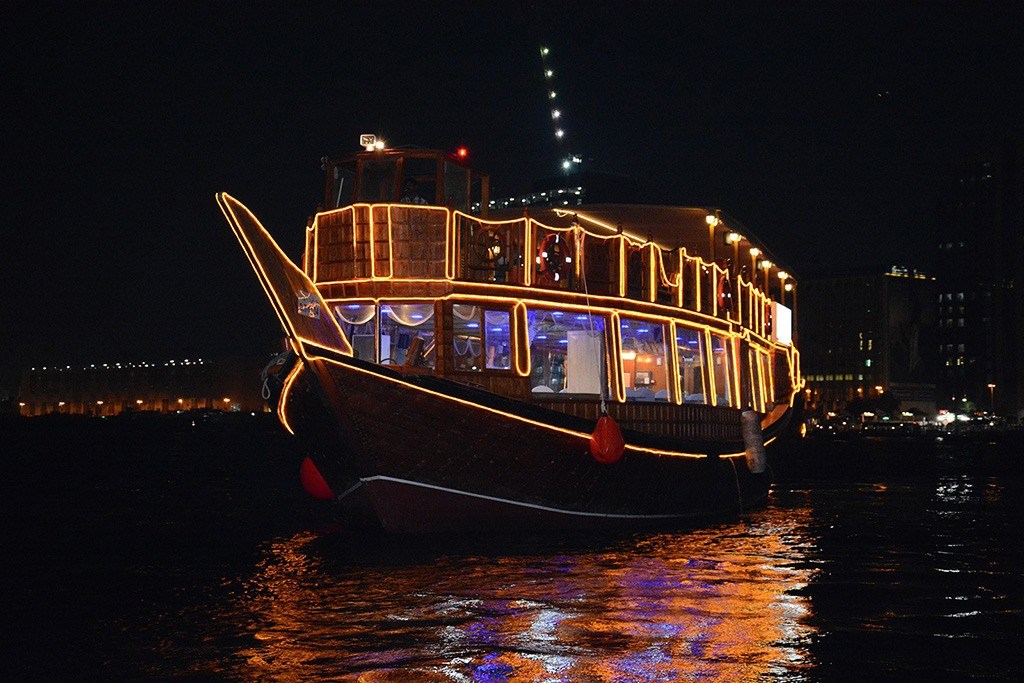 Dhow Cruise Dubai
1. Rayna Dhow Cruise
Dhows are traditional wooden boats that have been spanning the waters of the Indian Ocean and the Red Sea since time immemorial. Now, you can step back in time and enjoy some time onboard this historical vessel by cruising on the serene waters of Dubai. We offer two kinds of Dhow Cruise Dubai. You can opt for the Dhow Cruise Creek that takes you through the delightful part of old Dubai. The second is the Dhow Cruise Marina which covers a magical journey in the modern part of the city flanked by iconic landmarks and high-rises. You are welcomed on board with delicious Arabic coffee and dates. This 2-hour journey has some awesome things in store for you.
There is a lavish BBQ buffet dinner with mouthwatering delicacies from all around the world. There is an assortment of vegetarian and non-vegetarian starters, main course, and desserts with unlimited tea, coffee, and water also do the rounds. You can also feast your eyes on the beautifully illuminated Dubai skyline and listen to soothing music in the background. Once you pamper your tastebuds with all the delicious treats, you can sit back and enjoy live cultural performances including belly dancing and the Tanura dance show. A perfect way to end your perfect evening!
Dinner at Dhow Cruise Dubai
2. Al Wasl Dhow restaurant
Their Dinner cruise in Dubai adds all the elements of a great evening including sumptuous food, Tanoura dance, on board music and of course candle lit environment to create a sublime atmosphere to spread love and happiness. Dhow Cruise Dubai Marina will serve you extraordinary continental and Arabic buffet with a pinch of love. The ever courteous Dhow Cruise crew pampers you like a royalty and your heart fills with joy and happiness. The moments of Dhow Cruise Dubai Marina may get over but the memories would never.
Families are welcome on the Dhow Cruise Dinner in Dubai, operational 365 days 8.30 PM to 10.30 PM. We provide free Wi-Fi on Dhow Cruise, moreover extra optional pick and drop service from Dubai. Click here for more information.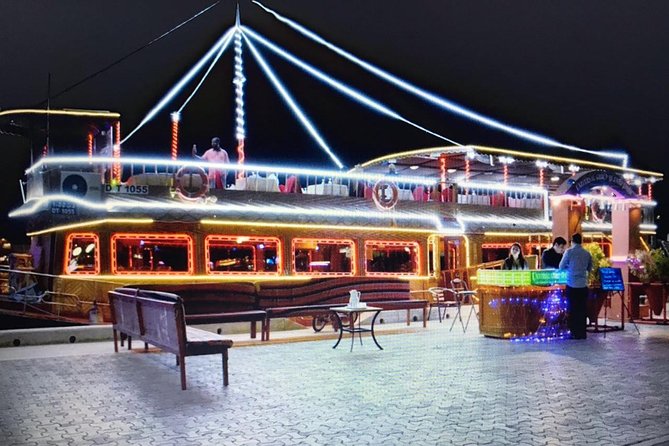 3. Alexandra Dhow Cruise in Dubai Marina
Explore the waterways of Dubai Marina on this 2-hour, sightseeing dinner cruise. Climb aboard the 'Dhow Alexandra,' a wooden Arabic Ship that has been refurbished and renovated into a high-class floating restaurant operating in Dubai Marina.
The Dhow Cruise Dinner has become one of the most popular tourist attractions in the city. Enjoy a buffet dinner with five salads, seven main-course dishes, a seafood soup and four dessert options, plus entertainment and a spectacular view of the city skyline from the water.
Take a sightseeing dinner cruise in Dubai Grab a drink from the onboard bar
Enjoy a buffet meal with salads, main courses, soups and desserts
Check out the view of the city from the water
Onboard entertainment included
4. Bateaux Dubai Dinner Cruise
Glide along Dubai Creek and admire Dubai's skyline over a gourmet dinner on this Bateaux Dubai evening cruise. Walk the red carpet onto the sightseeing boat and savor a welcome drink and canapés as you admire the floodlit landmarks from the glass-enclosed or outdoor decks. Pass top Dubai attractions including the Clock Tower and Al Maktoum Bridge, and enjoy a 4-course gourmet dinner serenaded by a pianist. Choose a selection of sodas to accompany your meal, or upgrade to a package of house wines and more.
Dinner cruise on the elegant Bateaux Dubai
Soak up the uninterrupted views through the panoramic glass walls
Savor a 4-course gourmet meal
Upgrade to an alcoholic drinks package with house wines
5. Creek 4 Star Dhow Dinner Cruise
The Tour Dubai 4 star Dinner Cruise is the perfect way to spend an evening in Dubai admiring the sights and treating yourself to a delicious buffet dinner. The traditional wooden dhow boat sails right through the main creek of Dubai, passing the famous Bur Dubai and Deira neighborhoods.
You'll have the opportunity to see some of the oldest areas of Dubai alongside some of the most modern, cruising at a relaxed pace with a luxury meal, with alcoholic drinks also available. Admire the stunning Dubai skyline, filled with magnificent and beautiful feats of modern engineering such as The National Bank of Dubai, The Chamber of Commerce and many more incredible sights.
Begin your evening with a VIP red carpet welcome and settle into your seat to an atmospheric Arabic and English soundtrack or carefully selected music. All that's left to do is enjoy the buffet of lavish foods. Sit back and watch the world go by from the luxury and comfort of your fully-catered dhow boat.
advertisements

6. Dhow Cruise Dinner Marina Skyline 5 star
See the sparkling lights of Dubai from the water on this fun excursion. Ride on a traditional wooden dhow and take in the sights of the desert city—from the modern architecture of Dubai's towering five-star hotels, to the private beaches and exclusive enclaves of the Palm Jumeirah—all while enjoying a buffet dinner. Door-to-door pick up and drop off from your Dubai accommodation is included.
Enjoy a peaceful dinner cruise along the shores of Dubai
Get a new perspective on the sights as you see them from the water
Round-trip transportation from your lodging is included
Don't forget your camera, there will be great shots to take