Grocery shopping is a regular exercise which sometimes gets in the way of our busy lifestyles. Shopping for them online is an effective way to save time, money, and gas. You can order your groceries at any time and from anywhere.
Additionally, you will find a larger variety of products, spread across brands and price ranges to pick products that suit your needs best. Almost all online grocery stores offer various delivery options, easy returns, and exchange. Usually, you can choose between delivery and pick-up with most of them offering a 2-hour time slot for delivery making it convenient for consumers to plan their day.
Unlike regular brick-and-mortar stores, online stores also have loyalty programs where you can save money while purchasing groceries. We understand that it may become confusing and time-consuming to browse through a lot of products when searching for a specific item. Therefore, we've compiled a list of sites you can access for an easy shopping experience.
Thrive Market
Thrive Market is an online grocery store focused on providing a large selection of healthy and natural foods. They also offer food for specific diets. Browsing through the Thrive Market, looking for items that most suit your preference is like a walk in the park.
There are a number of ways you can filter through the store to find what you are looking for. You can browse by diet on Thrive Market (vegan, gluten-free, etc), by grocery aisle (meals, snacks, cereal, etc), or by area of the home (beauty, babies and kids, etc). They also have multiple options for "healthier" snacks.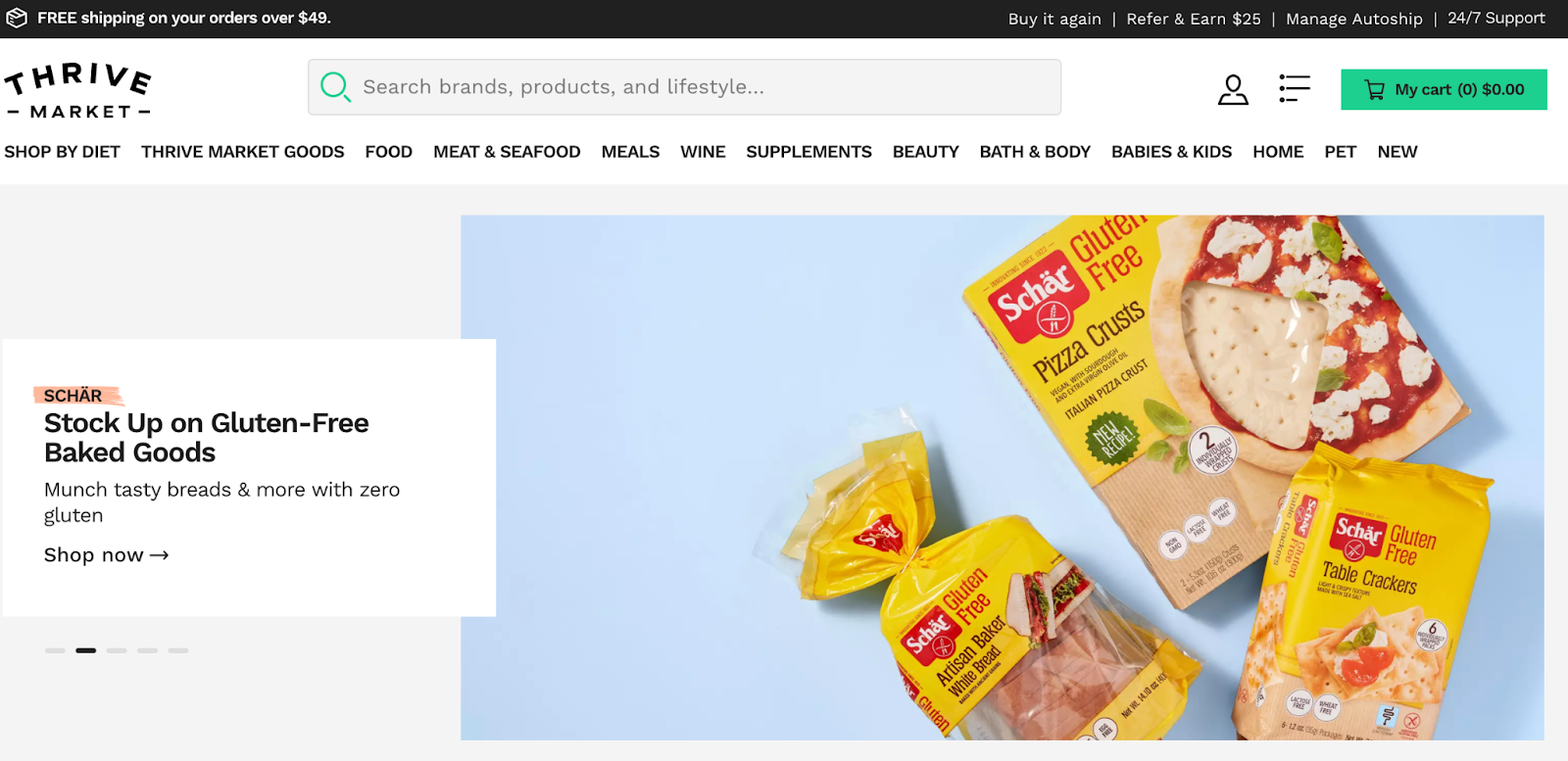 All items are packaged well enough to ensure nothing gets squished or broken. If you're someone who has a very specific diet, this is the store for you.
Furthermore, it is incredibly easy to locate deals and discounts on the website. Make sure to look out for the Thrive Market brand, they offer high-quality products for lesser costs. They also have customer feedback and reviews for you to refer to when you are in doubt about their products.
Amazon Pantry
Just like the retail store, Amazon Pantry is known for bringing anything under the sun to your doorstep with consistent and systematic delivery mechanisms. They have two divisions: Amazon Fresh and Amazon Pantry.

Amazon Fresh has smaller time slots for delivery to ensure your orders reach you at the earliest. Staying true to the Amazon DNA, the interface is user-friendly. Consumers can simplify their shopping by filtering products by price, availability, discounts, and brands.
Fresh Direct
Fresh Direct has been one of the oldest online grocery stores on the market and is all about delivering fresh food. Right from seafood, vegetables, poultry, meat, to pork, they claim that the produce is delivered fresh to the consumer. This store carries many brands, across categories giving the shopper plenty of options to choose from.

The site is extremely easy to navigate as products are sorted into different categories. You can filter the products according to your personal preferences. If you happen to order a product and it sells out/becomes unavailable after you order it, they even replace the product, with another of the same value or higher at no cost.
Walmart Grocery
For a long time now, Walmart has ensured to bring products at the lowest price point to its customers making it the clear leader in the United States. They offer a very wide range of high-quality goods.

Walmart also has an incredible selection process where you can filter the merchandise according to your preference, making your shopping experience quick and hassle-free. Their 'Everyday Low Prices' guarantee helps you save more money on daily needs.
Peapod
Peapod carries most items your local grocery store carries. They also offer ready-to-eat means and meal kits in addition to meat, fresh produce, alcohol, frozen and refrigerated foods. You can easily shop by brand from the Peapod website.
To get the best value, remember to place larger, less frequent orders. You can search for the items you're looking for by typing it on the search bar available at the top of the page. Through Express Shop, the process of choosing and adding items is simplified. The Specials option under My Shop tabs shows items at discount.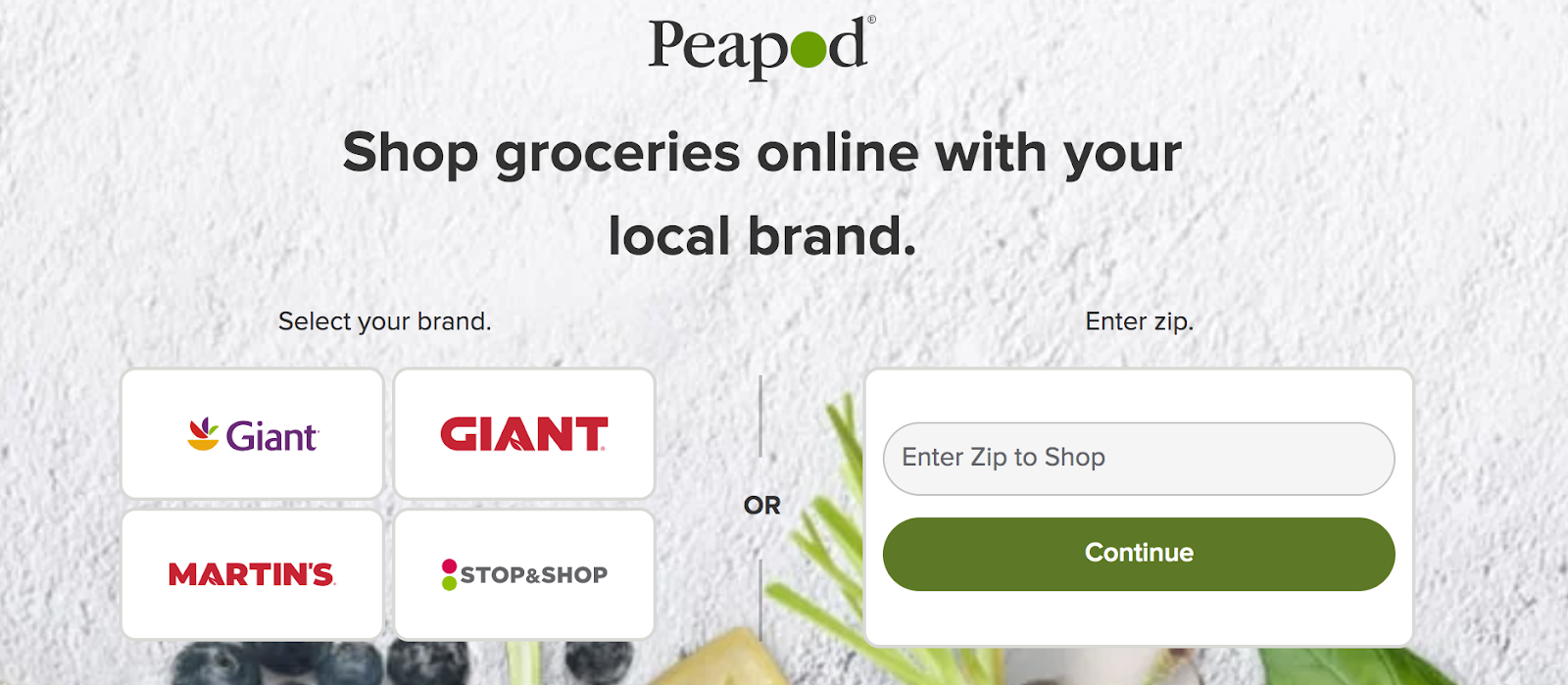 advertisements

This surge in the online grocery shopping market is courtesy of technological advancement. They have not only provided people with convenience and multiple options to explore, but have also increased awareness about many products and ways in which people can lead a healthier and more fulfilling diet.