It's a wrap to the year 2019, which means that you are about to break a New Year's Eve party for your friends and loved ones. If by any chance you are planning to host a New Year's Eve party, you must have fabulous food to compliment the wine and drinks at the end of the year soiree. Rather than hosting a full end of the year dinner this New Year's Eve party, add on the appetisers, desserts, good finger foods with cocktails to mark the drop of the ball at Times Square.
Whether you are gifted a bottle of champagne by your guest or order wine online Australia, it can complement any of your food items all starters without fail. You must emphasize the quality of the food. Also, make sure that the party satisfies the cravings of all kind of guest. So, you must focus on items that most of the guest are going to like and prefer. Besides, focus on innovating and designing some things to make them look attractive. You can also add some complimentary drinks to increase the charisma of the party. It is totally up to you.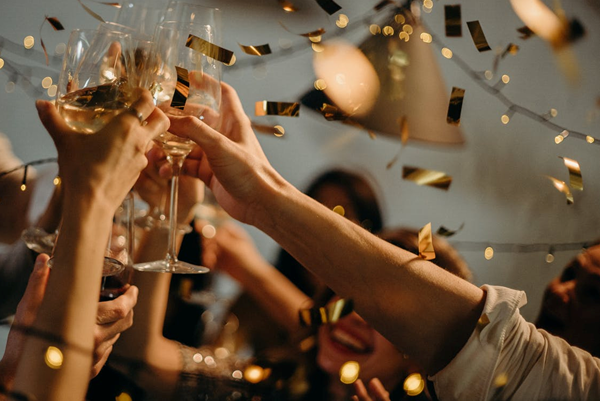 Rejoice the Past and make the guest happy
Keep your guest happy and well-fed with the delectable end of the year feast; giving a warm welcome to the year 2020. To kick off the night right, serve your guests with the best food to compliment any gathering. It's the time for you to rejoice past achievements of the year that is about to end and mark new resolutions to kick start a fresh beginning of a new decade. New Year's celebration goes around the globe, with variations in cultural norms and society. Whether it's a big bash, a personal gathering or a movie marathon with your loved one, you can be as creative as you can to set the tone right for your New Year's Eve dinner.With the well-selected playlist of songs, keep your guests entertained to enter a new year with good food and positive vibes. Poker or tombola could be a thrilling add on to your New Year's party, with the second round of the appetisers and cocktail drinks.
Pick less time-consuming items
Pick up the items that are less time-consuming in preparation, and gives you more time for partying. Set this goal anytime you are planning to invite people for a feast. This way, you will certainly be mixing and mingling in no time. The recipe for having a good time is to pre-assemble the dishes, to be baked later in the oven once your guests arrive.
Here is a list of items that you can add up into your New Year's Eve celebration to pull off a great welcome to 2020:
1.    Cheddar Gougeres
This special appetizer compliments best a bottle of champagne, to go in the list of food items that you are going to serve this new year. Wine and Champagne are the essentials for any New Year's Eve party. However, cheddaris an essential appetizer for your new year eve's soiree. They are airy puff pastries, which are best served with sparkling wine. It is made up of usually clothbound cheddar cheese, eggs and flour. They are served warm straight from the oven to enjoy the delicious taste of our top of the listed starter.
2.  Red sangria punch
Punches are not only for summer; they are an astounding addition to The New Year party feast. Celebrate your new coming year like the Spanish do, sipping on this punch while eating grapes.While grapes are considered to bring good luck if eaten on New Year's night. According to Spanish custom, eating 12 grapes at midnight ensures good fortune in the coming year. This punch can be made in advance and refrigerated, to be served without ice. Surely your guest will enjoy this cocktail with other food you will serve.
3.   Baked Dijon Salmon
Baked Dijon fish is one of the delicacies that you can offer your guest to celebrate this cold winter night. You can use any choice of fish that you desire. However, salmon is one of everyone's favourite. Fish too is the new year's luck factor. It is prepared by baking salmon fish fillet in the oven, topped with herbs and spices. It is the symbol for abundance if eaten at the beginning of the lunar new year.  It is considered to be a lucky food as its scales represent coins and the forward swim movement represents progress throughout the year.
4.  Decadent potato gratin
This dish will serve guests of all ages. Potato gratin pairs perfectly well with any cocktail and a line of other main courses. Your guests won't be able to get enough of this cheesy, potato baked dish. The decadent potato dish leaves many people drooling for more as soon as they dip their spoons into it. The sprinkle of Parmesan cheese, brown and bubbling with golden potatoes, is heavenly to savour on the New Year's Eve.
5. Roasted Feta
If you are on the lookout for an easy and less time-consuming dish to prepare this New Year's Eve. There is nothing as easy as roasted feta cheese sprinkled with herbs and spices with some dip. Feta cheese is easily available and is loved by all. Serve your guests with an appealing presentation for your classy dinner party. Attach it in wooden skewers.
6. Sweet Tarts
Sweet tarts are deliberately added to this New Year's Eve dinner menu. How can we skip a sweet dish for any dinner and that too when we are entering a new decade with positive vibes? In tarts, we can add cranberries for the filling, with the twirls of sugared orange peels on top. This zesty and sweet dish will be a hit from your New Year's feast dessert table.
7. Herbed stuffed mushrooms
Appetisers are a never-ending story for a long and quintessential dinner. Stuffed mushrooms are one of the most healthy and creative appetisers. They are baked until they are crispy and golden and served after the garnish and seasoning. Stuffed mushrooms are mouth-watering for any seasonal celebrations to accompany the glass of champagne at any time.
advertisements

Conclusion
Now that you have the list of items that your guests will most likely savour, you are all set to have the fabulous and somewhat lucky New Year's Eve. With the grand finale of 2019, give a final toast with your loved ones to bid farewell to your memories and enter the new year to build more along the road. Happy munching as you begin your new year!