Johnny Rockets is one of the fastest growing American restaurant franchises. The restaurant chain's claim to fame is its unique take on classic all-American fare melded seamlessly with 50s nostalgia and amazing Johnny Rockets Menu Prices.
More than just a burger joint, Johnny Rockets draws most customers in with the chance to experience the joys of a bygone era in the modern day.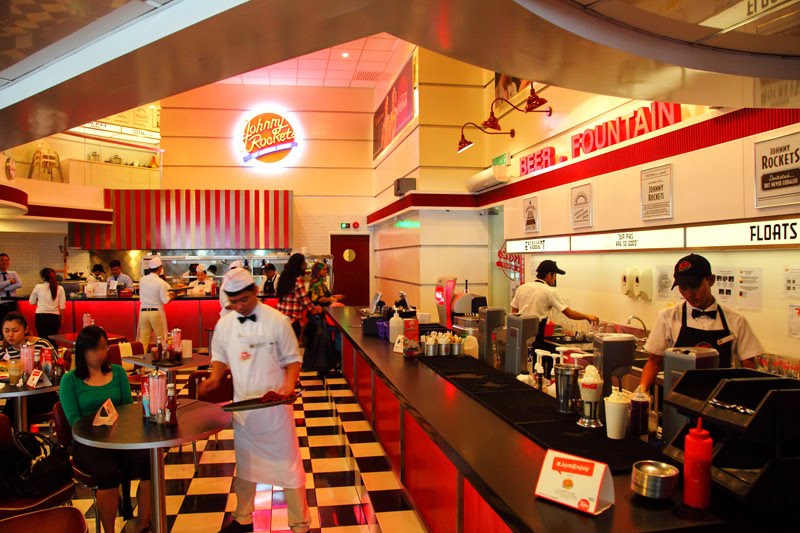 Johnny Rockets Menu Prices
FOOD
SIZE
PRICE

Hamburgers

The Original
$4.59
The #12
$5.19
The Houston
$5.59
Smoke House
Single
$5.99
Smoke House
Double
$7.09
Route 66
$5.69
Rocket
Single
$5.19
Rocket
Double
$6.29
The Streamliner®
$5.19
Bacon Cheddar
Single
$5.99
Bacon Cheddar
Double
$7.09

Chicken, Sandwiches, Hot Dogs & Salads

Chicken Tenders
6 Pc.
$5.89
Chicken Club Sandwich
$6.29
Grilled Chicken Breast Sandwich
$5.69
Tuna Salad Sandwich
$5.19
BLT Sandwich
$5.09
Hot Dog
$3.19
Chili Cheese Dog
$4.39
Grilled or Crispy Chicken Club Salad
$6.29
Garden Salad
$4.09

Rocket Melts

Patty Melt
$5.89
Tuna Melt
$5.99
BBQ Chicken Bacon Melt
$6.79
Grilled Cheese
$3.99

Philly Cheese Steaks

Philly Cheese steak
$6.09
Chicken Philly Cheese steak
$6.09

Rocket Kids

Includes Kids American Fries & Kids Beverage

Kids Mini Hamburgers Meal
2 Pc.
$5.09
Kids Chicken Tenders Meal
3 Pc.
$5.19
Kids Mini Hot Dog Meal
2 Pc.
$4.99
Kids Grilled Cheese Meal
$4.89

Shakes & Floats

Original Shakes & Malts
$4.29
Deluxe Shakes & Malts
$4.69
Super Deluxe Shakes & Malts
$5.09
Floats
$3.69
Kids Original Shakes & Malts
$3.09
Kids Deluxe Shakes & Malts
$3.19

Starters & Shareables

American Fries
$2.19
Onion Rings
$3.29
½ Rings & ½ Fries
$3.19
Sweet Potato Fries
$3.39
Chili Bowl
$3.39
Cheese Fries
$3.29
Chili Cheese Fries
$3.49
Bacon Cheese Fries
$3.49

Beverage

Soda Pop & More
$1.79
Milk
$1.79
Other Beverage
$1.59
Flavor Shots
$0.39

Desserts

Vanilla Ice Cream
$1.59
Super Sundae
$3.59
History of Johnny Rockets
Founded in 1986 by Ronn Teitelbaum, Johnny Rockets had its roots in Los Angeles, drawing much of its appeal from its founder's attempt to capture the feel of a vintage malt shop from the 1940s and 1950s. The franchise has since spread throughout the country and across the globe, with nearly 350 locations around the world.
The restaurant prides itself in its approach to food. Hand-chopped vegetables, hand-spun milkshakes, and burgers that are grilled in view of the customer.
Johnny Rockets Review
The first Johnny Rockets location aimed to evoke 40s and 50s Americana, a tradition that continues with most locations today. Many locations feature coin-operated jukeboxes for diners.
The chain specializes in the type of fare you can expect at a diner from the period, given a modern culinary twist. The restaurant takes pride in its approach to quality, and its shows. For many diners, its burgers are rather standard but are a cut above those of typical fast food joints.
Sides and desserts are where the restaurant comes to its own. Its fries are not excessively greasy and maintain a distinct hint of flavor. Its milkshakes are a delightful assortment of classic and unique flavors that would please both the young and the young at heart.
The staff members serve food with a smile on their face. In busy locations, service can be expected to be slower during peak hours.
advertisements

TOPIC: Johnny Rockets Menu Prices