The Christmas festive season is just around the corner and I don't want you guys to miss out on the best Christmas treats and that too which you can easily make at home. I honestly really love the concept of meal kit delivery services as they provide you with all the ingredients that are required to make the meal that you have ordered, they also give you an instruction card which clearly defines every step you have to take in order to prepare the dish. I ordered Holiday Lights Gingerbread Cookies with Mini M&Ms meal kit using the Dinnerly Discount Codes.
I have a sweet tooth so anything sweet or with sugar I cannot hide my temptation to eat it. I really like trying new dishes every once in a while when I do get the time try making sweet dishes at my own home. Considering that Christmas is just around the corner I was looking up recipes for Christmas treats and I came upon these yummy recipes that I couldn't resist ordering. A first I was a bit skeptical whether or not I should order from a meal kit service because it was my first experience and I didn't know how they work but everything was very good from the delivery to the quality of the ingredients to the final product.
One of the best sweet dishes you can make without costing a huge sum of money. This dish didn't take a very long time to cook and neither was it complicated at all. It took me just an hour to get the ginger bread cookies ready and I didn't find it hard all to make them in my own kitchen as well. It came with two options 1) 12 cookies 2) 24 cookies and I choose the 24 cookies option because it was weekend and I wanted to eat cookies with warm coco milk. 
Delivery Service
To my astonishment the meal kit was delivered to me in the given time. The box was perfectly sealed and made sure that anything inside the box doesn't get damaged, inside the box the ingredients were inside a plastic box that was also perfectly sealed and on top everything all the ingredients looked and smelled fresh.
What was inside the box?
They were hand full of things inside the box and I will list them down for you below:
3 oz chocolate chips

1 oz chocolate rainbow M&M's

10 oz self-rising flour

¼ oz warm spice blend

5 oz dark brown sugar

2 (5 oz) confectioners' sugar

2 oz molasses powder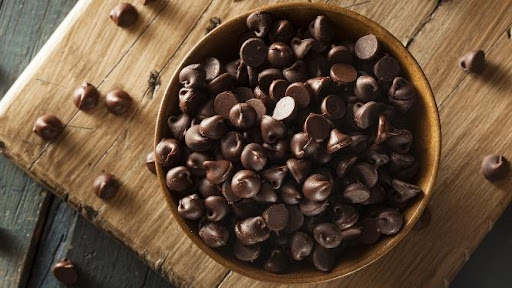 There are a few things that they mentioned that you should already have but don't worry most of them were just common kitchen item like butter, eggs and vanilla.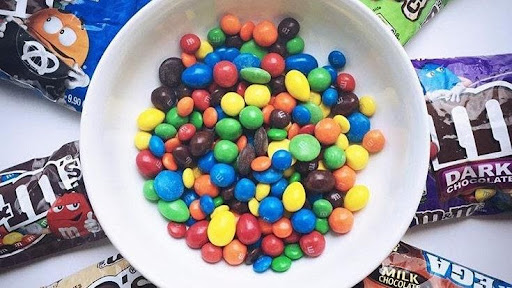 The instructions card was given inside the box and it was complicated at all, in 5 simple steps I was able to prepare the cookies without needing any external help of any kind. The first step I had to do was to pre heat the oven at 350°, while it heats I whisked the flour and warm spice blend together. Then in another bowl I mixed the 1 stick butter, brown sugar, molasses powder with an electrical mixer until it turned pale and a little fluffy.
Add one large egg with 1 tea spoon vanilla with the butter mix. Lower the speed of the mixer and add a bit of flour and start mixing it again. Roll the dough between two pieces of parchment paper to a quarter-inch thickness. Place on a rimmed baking sheet lined with parchment paper and freeze for 15–20 minutes, or until solid.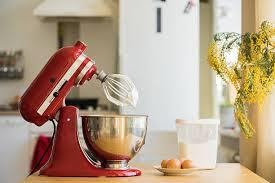 Peel the parchment layer off and cut the cookies out. As mentioned on the instruction card I divided the cookies between 2 parchment sheets and then I baked on the upper and lower racks of the oven and rotating the sheets throughout this 8 to 11 minute process. While the cookies are cooling take out an egg and take out the yolk then put it in a bowl to beat the egg with  t teaspoon of vanilla, after a while also add the confectioners' sugar and beat for 2 minutes. When the frosting is ready apply it to cookies and let it sit or around 2 hours or so.
After the frosting has been applied on to the cookies, microwave chocolate chips and 3 tablespoons water in a small bowl for 30 seconds at a time, stirring in between, until melted. To add the final touch to the cookies pour the mousse to a piping bag or a zip lock bag with an 18-inch hole. Stripes can be piped onto cookies. Serve gingerbread cookies with M&Ms crushed into the mousse to look like Christmas lights.
My experience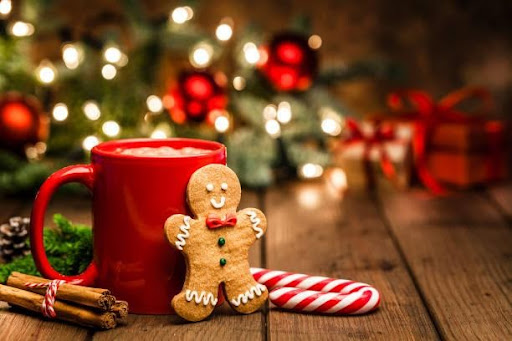 The instructions might seem a bit hard or difficult to understand if you are not used to cooking that much. You should take my opinion and try these yummy cookies for yourself then you will understand how easy and convenient they are to make. Ok so ill describe the taste and my eating experience for you all, so the cookies had a crunchy texture but were really easy to bite and chew. The cookies were amazing as I could taste all the different flavors of vanilla, cream and chocolate chips together which gave it the perfect holiday treat taste. The M&Ms Were my favorite touch as it gave the cookies extra flavor.
If you want have them with warm milk like hot coco or any other warm drink you like. I was eating the by dipping them into hot coco and then taking a bite it was lovely. This Christmas trust me when you have your whole family over sit I the living room with these cookies prepared and enjoy a Christmas movie with all your family members because you never know you may not get this opportunity again.