Bustling with fashion, fame, fortune, and food is our very own New York City. Broadway shows, beautiful people, and fascinating places lie at its heart. Not to forget the burly building and adorable yellow taxis on the streets!
However, food is a universal language, and what better place than New York City to speak this language? So, fueling the NYC charm are many irresistible restaurants serving myriad cuisines and lip-smacking delicacies. Are you looking for restaurants to explore in New York? Here are the top 3 restaurants you must check out on your next NYC tour.
1. Casa Del Mar Seafood Restaurant & Bar
Rich in the cross-cultural atmosphere and home to the Yankee stadium, Bronx is one of the trendy boroughs in New York. And adding to its allure is the Casa Del Mar Seafood Restaurant & Bar in Bronx, NYC. Known for its seafood, Casa Del Mar is a bar and restaurant whose grand opening was in 2018. 
Over the years, they have continued to serve a wide assortment of seafood and drinks that go hand-in-glove with the delicious dishes. Also, every item on their menu has a tinge of Dominican flavor.
The ambiance of the restaurant
Casa Del Mar offers outdoor seating, making your evening a refreshing one. In addition, the terrace seating arrangement makes a brunch or dinner under the stars all the more special.
In addition, they permit hosting private events or gatherings like bachelorettes, corporate events, and birthdays. Well-equipped with a separate bar and audio-visual equipment, their sizeable space hugely contributes to the event's success. And if you need the best and most trusted source for corporate party entertainment, a reputable company similar to this corporate event entertainment Seattle Tacoma here can provide quality musicians, DJs, and performers, backed by outstanding customer service at affordable rates!
The dishes you must try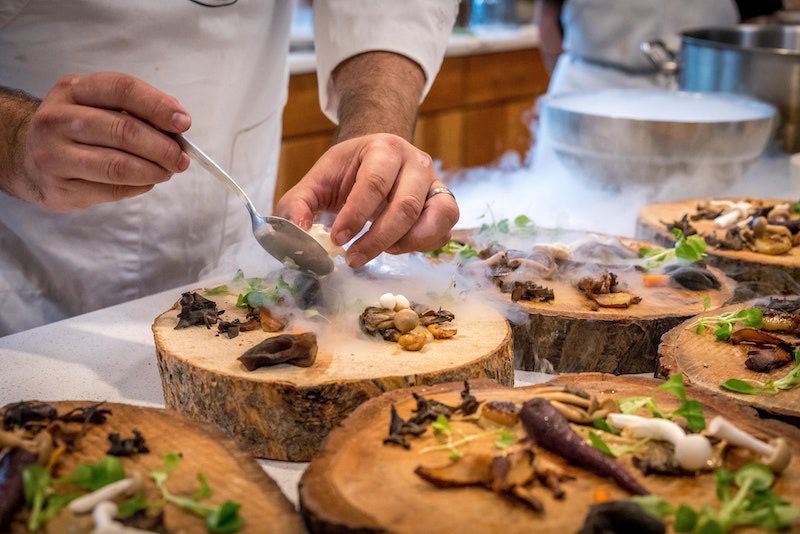 Primarily specializing in seafood, Casa Del Mar offers some of the most palatable dishes. However, they have non-seafood options, too, for people with other preferences.
Some of their must-try dishes are starters like the Shrimp Salad, Chofan, and Chilean Sea Bass Fillet, and pasta like the Lobster Fra Diavolo Pasta and Penne Alla Vodka or Carbonara Pasta. 
For non-seafood options, the chicken croquettes and chicken empanadas will leave you wanting more. When in doubt, the Classic Cheeseburger is always there to your rescue.
Casa Del Mar's diverse seafood, inclusive non-seafood options, and great ambiance make it a must-visit restaurant on your next trip to New York. However, do not miss the statue of Poseidon on your way here!
2. Rezdôra

Rezdôra is the brainchild of chef Stefano Secchi and David Switzer. Known for its Italian cuisine, this essence is embedded in every aspect of the restaurant, from the exterior to its dishes.
Emilia-Romagna is a place in Northern Italy popular for its unique pasta. The menu of this place has significantly inspired the cuisine at Rezdôra. Offering freshly-made egg pasta (a specialty of the Emilia-Romagna region), this restaurant retains the true flavors. The skillfully tossed vegetables and perfectly cooked meat-based dishes are a cherry on top.
The ambiance of the restaurant
The rustic and cozy Italian ambiance is something one cannot miss. The blend of traditional Italian appearance with modern yet welcoming interiors will swiftly catch the eye. You can take in the freshness of the pasta and other ingredients from the full-length windows that offer a sneak peek into the machines. 
What's more? You can also organize fun birthday parties or business dinners here!
The dishes you must try
Rezdôra has a variegated menu, from laidback brunches and cocktails to full-fledged lunch and dinner options. The distinct taste of their authentic plates of pasta is bound to linger on your tongue, leaving you craving more. Some of the pasta dishes to choose from their diverse menu are the Spaghettoni, the Maccheroni, and the Anolini. 
Non-pasta options include the Gnocco Fritto, Uovo Raviolo, Cacio e Pepe Salad and the Cow Grazing in Emilia-Romagna. Besides, Burrata, mozzarella, and stracciatella are some of the piquant cheese options to choose from for your bread. So, are you looking for a pleasant pasta spot for a date night or a reunion with friends? This three-Michelin-starred italian catering and restaurant with a comfortable setting is the right place to be!
3. Eleven Madison Park
Overlooking the captivating Madison Square Park, Eleven Madison Park is an upscale restaurant in Manhattan, the heart of New York City. The base of this restaurant is situated at the landmark Art Deco building.
Established in 1998, this restaurant has been owned by chef Daniel Humm since 2011. This fine dining restaurant is an example of 'keeping up with time.' It turned a new leaf in 2017 by undergoing a remarkable transformation. Chef Humm offers exclusive plant-based dishes here, in addition to appetizers, classic wines, and cocktails. 
The ambiance of the restaurant
Located in the Theater District, this restaurant's ambiance gives a theatrical impression. However, the warm and inviting space renders one a sense of calmness. 
The spacious dining area and the sophisticated interiors continue to preserve the original quintessence of the place and the years of experience it holds. And the revamped bar makes every glass of wine or cocktail memorable.
The dishes you must try
Chef Humm emphasizes planet-friendly dishes here. With a complete shift in paradigm across the world to veganism, this restaurant is moving with the trend. In an environment-friendly move, the menu too has been modified.
The Heirloom-tomato tea with lemon and thyme, Blueberry with Elderflower, and the Caviar course with Tonburi are one-of-their-kind, must-try dishes. Tofu and smoked daikon can be found on the menu too. From a bottle of Cabernet Sauvignon to timeless Champagnes, name it, and you have it. Also, you can taste a wide range of cocktails, from Chamomile to other soft, fruit-based ones.
Thus, no matter what the occasion is, for a classy, serene setting with acquaintances, family, or friends, Eleven Madison Park is a perfect choice.
Final Words
The extensive cuisines and enchanting restaurants in New York never cease to amaze. Whether a rookie is visiting the city for the first time or a proud resident, the innumerable options and endless varieties make every food an unforgettable experience here.
advertisements

So, whenever touring New York, do not miss out on tasting the diverse cuisines and mouth-watering delicacies offered by the above-mentioned restaurants. They will not only fulfill your hunger cravings but also make your heart full of joy.