If you're wondering what all the fuss is about, we can confirm that there are a few reasons why the beloved Mistral Air Fryer has become a cult-classic-kitchen-staple in 2021. 
The first reason is that this affordable countertop gadget replaces your deep-fryer and mini-convection oven alike. 
The Different Types:
It's often difficult to choose the right Air-Fryer, when there are so many different options in the market. We've made this choice easier, with a quick run-down of the functions, features and benefits available:
Mistral 3.5L Air-Fryer
Features: 
Hot air technology

1500 Watts

3.5 Litre capacity

Detachable non-stick basket

Detachable rack

Adjustable temperature control 80-200 degrees Celsius

Power indicator lights

30-minute timer
Features:
Touch screen LED display panel 

7 dedicated pre-set menus

Detachable non-stick food basket and rack

10 Litre capacity

Adjustable temperature controls 80-200 degrees Celsius

60-minute timer
Mistral 16L Multi-Function Digital Air-Fryer: 
Features:
Multi-Function all in one Air Fryer, Rotisserie, Oven and Dehydrator

Digital display

16 Litre capacity

1800 Watts

Air Fry, Roast, Grill, Bake and Dehydrate fruits and vegetables

Adjustable timer and temperature control
Mistral 25L Multi-Function Air-Fryer Oven:
Features:



Convection with large turbo fan

60-minute timer with beeper

Adjustable temperature control

Large 25 Litre internal space

1700 Watts
Mistral 30L Microwave Air-Fryer Oven:  
Features:
Air Fryer, Microwave and Convection Grill Oven

30 Litre capacity

Defrost by weight and time

ECO Function

Multi-stage Cooking

Express Cooking

Child Safety Lock

1450W Input Power

1100W Input power (grill)

900W Output Power

2300W output power (convection)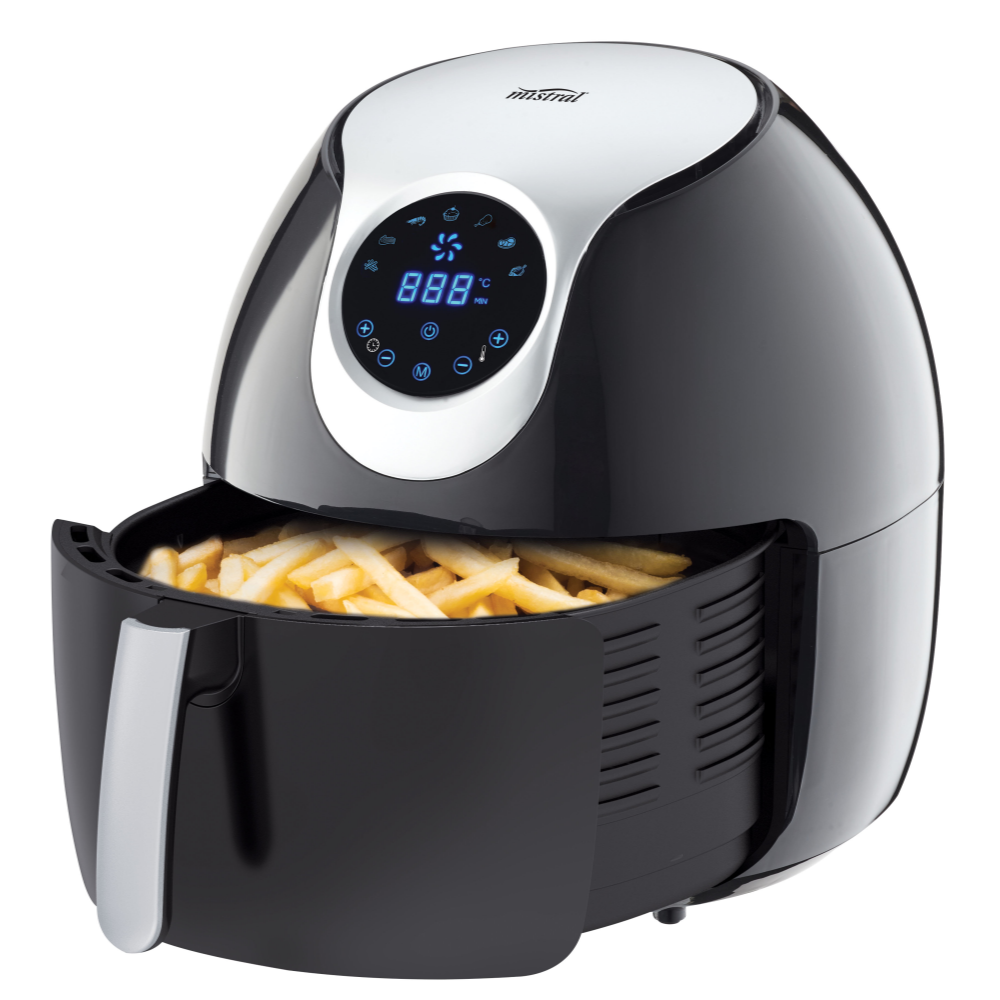 What Can You Expect?
Mistral Air-Fryers use a heating element and circulating fan, which carefully circulates hot air around your food. This process extracts moisture from your food, into a fine mist. While this is taking place, the heating element is busy browning, caramelising, sautéing and crisping your meal without the extra fats or oils that a deep fryer requires to accelerate the cooking process.
Fry chicken, fish, roast meat, tofu, frozen foods and vegetables with ease, and a fraction of the oil that would normally be used in a standard frypan. If you're counting calories, by not using tablespoons of oil to cook, you're usually saving yourself from an overly greasy meal and a huge 70% less calories per serving. 
Most models have a manual dial or LED digital screen that will allow you to change the time, temperature and setting suitable for your meal. If you ever get stuck on what temperature to set your Air-Fryer to, Mistral provides a User Care Guide for all makes and models.
Are They Worth The Hype?
With the various models on the market, ranging from 3.5 Litres to 30 Litres, it's obvious that Air-Fryers are here to stay. As technology advances, so too will the functionality of these incredible gadgets! Our latest model, the Mistral 30L Microwave Air-Fryer Oven, combines the features and benefits of a microwave, convection oven and Air-Fryer!
Are They Easy to Clean?
Our Air fryer parts are easy to clean and completely dishwasher safe. However, we recommend regularly cleaning your non-stick tray, basket or rack, in order to minimize a nasty build-up of grease. Regular maintenance is the key here!
advertisements

Air Fryer Hacks
Even though the humble Air-Fryer is nearly fool-proof, user-friendly and efficient, we have a few tips and tricks to keep in mind before you get frying, roasting and baking!
Don't overfill your fryer: If you're after crispy potato chips, make sure to spread them out! Because Air-Fryers use convection-oven technology, the hot-air needs to be able to evenly cook around the food. In short, even though you might want to put all of your chips in one basket, you need to remember that two-batches are better than one!

Pat your proteins: make sure to remove excess moisture by patting gently with a paper towel. Why? Because, when you remove the excess moisture from chicken, fish, red-meat or even other plant-based proteins—the Air-Fryer will be able to get straight into the centre of your food, cooking from the inside-out. The opposite of this could result in broiled, soggy proteins. So, if you're planning on cooking the crunchiest cooking pork-crackling, this process is an essential requirement!

Preheat and repeat: this is an obvious step in the conventional cooking process, however, so many people forget to pre-heat their Air-Fryer! Make sure to treat this gadget like a mini oven by getting the temperature just right from the beginning.

Get baking: an Air Fryer is not always the first choice when it comes to baking a birthday cake, apple-pie or blueberry-swirl friand. However, an Air Fryer can be a quicker, easier way to control baking in smaller batches.